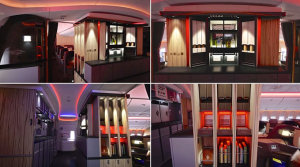 This article is re-published with kind permission of "www.airlinetrends.com".
Airlines operating the A380 superjumbo – such as Emirates, Etihad, Qatar Airways and Korean Air – have been using the relatively large amount of cabin space on this flagship aircraft to feature social areas such as onboard bars and lounges in their premium cabins. The A380 provides 50 percent more floor space compared with the B747, but airlines on average install only 35 percent more seats.
On the B777-300ER – which is replacing the B747-400 as a flagship aircraft – airlines such as British Airways ('Club Kitchen'), American Airlines ('Lobby Bar') and Japan Airlines' ('Sky Gallery') have been reimagining how the galley located in the premium cabin could become the domain of passengers as well, after regular service is over.
'Sky Lounge' Galley
The latest example of how the galley in the premium cabin can be turned into a social area (on non-US flights where it is prohibited for passengers to stand or group together on board) comes from Taiwan-based China Airlines, which will feature a 'Sky Lounge' in the Business Class on its upcoming fleet of B777-300ERs.
Designed by well-known Taiwanese architect Ray Chen – who has been responsible for the design of the flagship store of book chain Eslite in Taipei – the new design of China Airlines' Business Class cabin aims to give customers a feeling of relaxing in their personal reading space. The texture of persimmon tree grain has been used to decorate the partition walls of the cabin, and the Business seats feature stand-alone reading lamps.
The 'Sky Lounge' galley located in the middle of the Business Class cabin of China Airlines B777 (seatmap here) doubles as a self-serve bar and social area. During the flight, passengers can choose to walk up to the lounge to enjoy food and drinks while chatting with other passengers.
The 'Sky Lounge' is divided into three sections: A tea, alcohol and coffee area. The tea area provides tea, green bean cake, nuts, and other Taiwanese traditional tea snacks; the alcohol area provides cocktails, bar snacks, and cup noodles; the coffee area provides coffee from coffee capsules and locally grown coffee beans along with pastries.
The two outer sides of the Sky Lounge have been turned into bookshelves, on which a monthly selection of publications, in both Chinese and English, will be placed. On the opposite sites of the galley area two small areas have been created for passengers to stand when socializing.
Upgrade Program
The new interior of China Airlines' B777-300ER is part of the airlines' 'Next Generation Plan'. Besides receiving its first 777-300ER, the airline is introducing new uniforms, launching a Premium Economy Class, starting Tigerair Taiwan, further expanding its route network, and announcing an order for new narrow-body aircraft.
By introducing local cuisines and Taiwan-themed special liveries, China Airlines is also trying to make itself more 'Taiwanese' in an attempt to differentiate itself from its competitors.