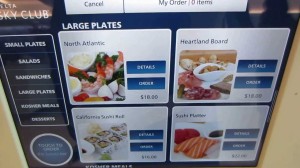 This article is re-published with kind permission of "www.airlinetrends.com".
In 2010, Delta and food and beverage operator OTG launched a novel restaurant concept at New York JFK Airport that allows passengers to order food and drinks via iPads installed at dining areas at the gate.
A server then delivers the food to the customer's seat within 10 minutes.
The concept has since then been rolled out by OTG to other airports around the USA, including New York LaGuardia, Chicago, Minneapolis St Paul, Orlando and Toronto Pearson.
JFK T4 Sky Club
Last year, Delta opened its new Terminal 4 at New York JFK Airport.
The new Delta T4 also features a 24,000 square feet Delta Sky Club where passengers can work, relax and dine at one of the more than 400 seats, 50+ work spaces and a 'Sky Deck' outdoor terrace (video tour and images of the lounge here and here).
Premium meals and drinks
Responding to passengers requests for more substantial meal options in its lounges, Delta in 2010 introduced a paid dining concept at four Delta Sky Club lounges at New York JFK Airport.
The new full-service concept offers made-to-order breakfast, sandwiches, salads, small plates and desserts for purchase, as well as premium beverages.
Meals are USD 10-15 and premium drinks USD 12 and the Delta Sky Club 'Café' includes dedicated seating areas within the lounge, but visitors also can order from the menu and dine anywhere in the lounge.
Tablet-based ordering
In its JFK T4 lounge, Delta has added a self-service element to its premium meals and drinks offering.
Those who want to eat more than what is available on the buffet can order via iPad ordering stations, which is a similar concept to the Delta/OTG iPads that are installed at the public gates.
According to the 'Point Me To The Plane' blog, "The sit-down service includes formal tables with candles, formal silverware and glassware, and waiter service. All ordering is done via iPad menus, though the server is there to provide advice, take non-alcoholic drink orders, and deliver the food."
Each meal shown on the iPad also comes with a suggested wine pairing.
Video of how the iPad-based ordering process works here.
"The 'to-go' service has the same menu, but after ordering on iPad-powered stations and pay by swiping their credit card through a reader at the side of the device, passengers can go sit anywhere (except on the Sky Deck) and are given a buzzer.
The server then locates them to deliver their food when it is ready" (video here)"