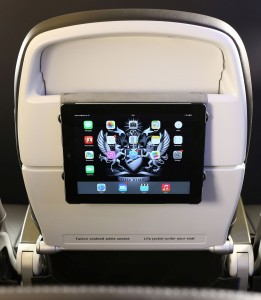 This article is re-published with kind permission of "www.airlinetrends.com"
Following earlier initiatives by major competitors Lufthansa (168 seats on its A320s) and Air France (178 seats on A320s) to install more slimline seats (from Recaro) on their short-haul aircraft in order to become more competitive with low-cost rivals such as Easyjet (180 seats on A320), British Airways has just unveiled its new short-haul interiors.
On the BA's existing A320 fleet of more than 40 aircraft, there are various different seats and configurations and at a recent shareholder presentation by BA owner IAG, it revealed that it aims to increase capacity across BA's Airbus fleet by 6 per cent.
BA executive chairman Keith Williams said: "The short-haul landscape has changed enormously in recent years. To stay competitive and keep offering customers choice, great fares and great service, we are giving our cabins a radical makeover."
Leather headrests, tablet holder
The new charcoal grey leather seats (manufactured by B/E Aerospace) are slimmer and ergonomically designed to allow BA to squeeze in extra seats for its economy cabins, Euro Traveller. This, says the airline, will allow it to offer more low fares. The new Euro Traveller chairs will have backs designed give more knee space for the customer behind and new eye-level seatback tablet-holders, which are rapidly becoming a standard feature on the latest generation of Economy seats.
Meanwhile, BA's Club Europe (business) will retain its 2:2 configuration with the middle seat blocked. However, seat pitch will be reduced from 34 to 30 inches – giving passengers in this area of the plane the same legroom as those in economy. Seats will be bridged with a new 'central console' table, giving passengers improved functional space. "This table provides inlaid leather mats for drinks, snacks and personal devices, freeing up the main table for work or a meal," said BA.
When asked if passengers might feel they were losing out in the new arrangement, IAG CEO Willie Walsh earlier this year said he thought not, since Club Europe passengers as well as having the middle seat blocked, and having a more comfortable seat because of the new technology, were also paying for a "differentiated service."
BA is about to begin fitting-out work on the first of its 95 Airbus short-haul aircraft that will feature the new interior, with the fleet upgrade taking 12 months.
Rightsizing
Earlier this year, Business Traveller reported that the new configuration of BA's A320s would be either 168 or 174 seats (versus 162 currently).
Speaking at the CAPA Airlines In Transition 2014′ conference in Dublin, Walsh defended the move to add seats to BA's short haul-fleet, saying: "The reconfiguration of the aircraft is being facilitated by the new seat technology which is much more efficient. The old seats were very large, very heavy and took up a lot of space that wasn't for the benefit of the customer."
Walsh said that the aircraft are configured for a "…historical level of premium travel on our short-haul network which has significantly reduced". He added: "The seat pitch on the first half of the aircraft was much greater than the back half and that was typically to reflect where the curtain was assumed to be. That curtain has moved way forward." […] "So with this change we can adjust it to reflect what we believe the sustainable level of premium traffic on our network."
Inflight connectivity
Earlier this month, BA also announced that its passengers on European flights could soon have access to broadband in the sky. The airline is in advanced discussions with UK-based satellite operator Inmarsat to be a launch customer for Inmarsat's planned hybrid internet access on European short-haul routes. Air-to-ground technology will cover aircraft flying over land, with the satellite filling in gaps over sea.
Kate Thornton, BA's head of product, said the airline would start with a service on its domestic routes, "giving our customers the internet access they expect on the ground while in the air."