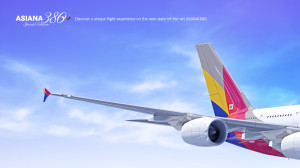 Production (Episode 1)
In this video montage, the first A380 for South Korea's Asiana Airlines takes shape at Airbus production facilities ahead of its 26 May 2014 delivery.
Asiana will be the 11th operator worldwide to receive Airbus' 21st century flagship jetliner.

Painting (Episode 2)
The no. 1 Asiana Airlines A380 receives its colours in this video clip, which includes time-lapse footage of the double-deck jetliner's painting process which was performed at Airbus' highly-advanced paint shop in Hamburg, Germany.

Furnishing (Episode 3)
In preparation for the 26 May 2014 delivery by Airbus, Asiana Airlines' first A380 receives its seats, luggage compartments and additional cabin equipment.
This double-deck jetliner has seating for a total of 495 passengers with high comfort levels.

In flight (Episode 4)
Asiana Airlines' first A380 takes to the skies in this video montage, which features in-flight footage of the 21st century flagship jetliner to be delivered by Airbus on 26 May 2014.

Delivery (Episode 5)
The delivery of Asiana Airlines' first A380 on 26 May, 2014 is shown in this "best of video", highlighting the special ceremony in Toulouse, France, with speeches from Airbus, Asiana, Rolls-Royce and the South Korean ambassador.
A performance by two young Korean musicians living in France, along with a dance presentation symbolising the colours and dynamism of Asiana Airlines, concluded the ceremony, followed by the milestone aircraft's roll-out and a welcome from Airbus employees who formed the shape of Asiana Airlines' wing-shaped corporate symbol.