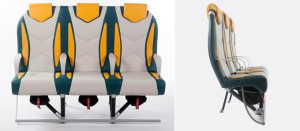 This article is re-published with kind permission of "www.airlinetrends.com".
Air New Zealand's innovative SkyCouch aside, Economy seat development is predominantly aimed at making the seats slimmer and lighter by using new materials and by coming up with smart design improvements. Besides weighing less, slimline seats also allow airlines to increase capacity without significantly affecting passenger comfort.
Meanwhile, ultra low-cost carriers such as Ryanair, Spirit and Allegiant have introduced non-reclinable seats (euphemistically called 'pre-reclined') on their narrow body aircraft. For example, Ryanair aircraft feature non-reclining seats, no seat-back pockets, safety cards stuck on the back of the seats, and life jackets stowed overhead rather than under the seat.
Lighest Economy seat
Combining the use of new materials with a novel design, French start-up seat manufacturer Expliseat at last year's Aircraft Interiors Expo in Hamburg launched its super-lightweight Titanium seat.
The fixed-back seat – which has been 'pre-reclined' by 18 degrees – weighs only 4 kilograms and features a newly designed titanium and composite tube structure, which can be covered either with textile or leather materials. Despite being just two-inches thick, the seat's "technical textile" is able to absorb shocks from the knees and fists of fellow passengers behind. Furthermore, the number of parts in the seat has been reduced to 30, down from 500 for a conventional seat.
The seat's tubular structure is made from a combination of carbonfibre and titanium – a material Saada says manufacturers have shied away from on account of its high cost, Expliseat CEO Benjamin Saada told the APEX blog. However, despite being "at the top of the price range", Saada says the resulting fuel savings of the seat are "so huge" that airlines will recover the high initial outlay within five years.

The reason for this is claim is that at 4 kilograms, the Titanium seats offers a 50-percent saving compared with the lightest models currently around which weigh between 8 and 10 kilograms, which according to Expliseat may translate into an estimated 3 to 5 percent fuel saving, or USD 300,000 to USD 500,000 per aircraft per year. With a three-seat row assembly, the Expliseat Titanium caters to single-aisle aircraft bodies such as the A320 and B737.
Expliseat has been recognized as an 'approved seat design' by European Aviation Safety Agency (EASA). According to the company's COO Jean-Charles Samuelian, the tests on the Titanium Seat have been officially passed under EASA ETSO process and official ETSO should arrive soon. Expliseat has been established by three young engineers in 2011 and counts former Airbus CEO Christian Streiff among its shareholders.
Air Méditerranée
Expliseat recently announced it has secured its first customer. Beginning in Summer 2014, the Titanium seat will be flying onboard Air Méditerranée, a small French airline based in Toulouse that operates charter and regular seasonal flights to some 30 destinations from the largest French cities to the Mediterranean basin with a fleet of eight Airbus A320s and three Boeing 737-500s.