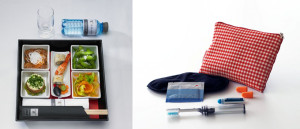 This article is re-published with kind permission of "www.airlinetrends.com".
In their quest to increase the average revenue per passenger, a large number of full-service airlines now charge a fee for the reservation of Economy seats with extra legroom (e.g, exit row seats), while a growing number of full-service carriers (mainly in the USA) also charges for checked bags.
Besides monetizing for services that used to be free, full service airlines are also looking to introduce premium services to passengers travelling in Economy for a fee. Think paid fast track through security and early boarding.
Premium meal
Up in the air, about ten full-service carriers around the world currently offer passengers in Economy the option to upgrade their meal for a fee.
For example, Austrian Airlines' 'A La Carte' service lets passengers on long-haul flights pre-order a premium meal for 15 euro. The airline's catering partner Do&Co has even opened a last-minute ordering desk at Vienna Airport where passengers can pre-order their meal up to just one hour before the departure of their flight.
Paid amenity kit
Austrian's latest ancillary initiative is the introduction of a paid amenity kit in Economy. Whereas the likes of Qatar Airways, Turkish Airlines and Korean Air are among the few airlines that provide passengers in Economy with a complimentary amenity kit, Austrian regards it as a possible (minor) source of additional revenue.
Branded as the "Austrian Tascherl" (video here), the practical comfort kit contains a sleep mask, earplugs, a refreshing towel, a toothbrush and toothpaste.
The design of the kit is based on the pattern of the "Tracht", the traditional national costume in Austria. On the front side, the linen fabric is in the red-white-red checked pattern, whereas the reverse side is in the red color of Austrian Airlines.
Since early March, long-haul passengers can purchase the Austrian Tascherl for five euros as part of the duty free inflight sales service. The kit can also be purchased by passengers in Business, who will continue to receive Austrian's complimentary Business Class amenity kit.
"Due to the growing demand for comfort items such as sleep masks and toothbrushes on board our long-haul flights, we have developed the Austrian Tascherl to fulfill the needs of our guests", explains Alexandra Strobl, director of product management at Austrian Airlines.
On a related note, Austrian also encourages passengers to purchase the duvet they have used during their flight for euro 50, with half of the proceeds going to charity.