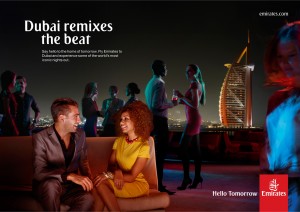 This article is re-published with kind permission of "www.airlinetrends.com".
Each year, British brand evaluation consultancy Brand Finance releases its Global 500 report, which ranks the world's most valuable brands by assessing the dollar value of a company's reputation, image and intellectual property.
The top 4 brands on the global list – respectively Apple, Samsung, Google and Microsoft – have remained the same for the past two years, while Verizon replaced Walmart on the fifth spot this year.
2014's top 500 ranking includes six airlines and for the third consecutive year Emirates is regarded as the most valuable airline brand worldwide. The airline finished 234th out of the 500 evaluated global brands (up from last year's 287th spot) with a a brand valued at USD 5.48 billion, a 34 percent increase on Emirates' 2013 valuation.
Hello Tomorrow
Equal to its fleet expansion plans (on top of its current fleet of 200 wide body aircraft, 'super-connector' Emirates has over 350 wide bodies on order), the airline has big ambitions for the positioning of its brand, aiming to evolve the airline from a travel brand to a global lifestyle brand.
Emirates' current global brand campaign 'Hello Tomorrow' was launched in April 2012.

The brand platform is designed to appeal to what Emirates calls "globalistas – a new generation of global consumers who are looking for new experiences across cultures," with Emirates being the brand that is enabling this global lifestyle. Or as the airline puts it:
"As the world becomes more interconnected, borders are being blurred and people are more mobile and globally focused than ever before; they are connecting, creating and sharing ideas that are propelling the world forward."
Delta, AA, Lufthansa, United, Singapore Airlines
Emirates' nearest airline brand rival is Delta at number 286 (brand value of USD 4.74 billion), followed by American Airlines (#298, USD 4.56 bn), Lufthansa (#331, USD 4.17 bn), United (#379, USD 3.83 bn) and Singapore Airlines (#458, USD 3.25 bn).
The largest increase in brand value has been achieved by American Airlines, which has benefited from its turnaround and accompanying rebranding campaign and more than doubled its 2013 brand value of USD 1.77 bn to USD 4.56 bn this year.
An airline-specific ranking for 2014 has not been released yet, but the ranking of the top 20 most valuable airline brands for 2013 is available here.