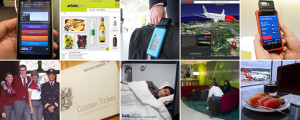 This article is re-published with kind permission of "www.airlinetrends.com".
At airlinetrends.com we continuously monitor the global aviation industry for product and service innovations launched by airlines in response to cultural, technological, and economic changes that influence airline customers' needs and expectations.
Major themes Besides working hard getting the basics of the passenger experience right – e.g, on-time departure and arrival, better cabin and seat comfort, quality catering and up-to-date IFE, and a friendly crew who understand the basics of onboard hospitality – many of the major themes that are on top of airlines' passenger experience agenda today contain a digital component, such as:
– Providing 'me-centric passengers' with more choice and control of their travel experience; – Enabling ground staff and cabin crew to offer a more personalized service; – Responding to customer feedback and closing the customer service loop, in (near) real-time; – Adopting a retail mindset and obtaining better merchandizing skills; – Keeping pace with the rapid developments in consumer electronics and connectivity.
The top 10 product and service innovations that we have selected this year aim to show how airlines can come up with creative solutions based on the interplay between technological, social and economical changes, with the aim to improve the passenger experience, increase revenues and/or lower costs.
Many of the examples on our list contain a major digital component, as the rapid adoption of smartphones and tablets (which has grown faster than any other consumer technology in history), the possibility to be connected anywhere and anytime, and the self-service mindset of connected travellers, has created a huge momentum for airlines to come up with innovative products and services.
THE AIRLINETRENDS.COM TOP 10
1. Airlines let flyers download content to their personal device before the flight
Responding to the large number of passengers bringing their own device onboard, airlines are stepping up the rollout of inflight Wi-Fi and wireless IFE portals. The latest development also sees airlines provide flyers access to IFE content before their flight takes off via dedicated apps or via the airline lounge wi-fi network. Read article »
2. airBaltic lets passengers customize their buy-on-board meal
AirBaltic's has launched a novel food ordering system that allows customers to customize their buy-on-board meal. Passengers who pre-order their meal can choose from 70 different meal options and virtually 'drag and drop' their preferred meal items onto a digital airline tray, and have their customized meal served to them onboard. Read article »
3. British Airways to trial electronic baggage tag
British Airways is testing an electronic baggage tag which removes the need for a new paper tag each time a traveller flies. Passengers can update the digital suitcase tag to display their flight information by holding their smartphone over the tag after they have checked in. Read article »
4. Norwegian's new Dreamliner features geotainment and in-seat ordering of F&B
Norwegian, Europe's 3rd largest LCC, has started flying long-haul low-cost using a fleet of Boeing 787s. The airline's Dreamliners are the first aircraft to feature Panasonic's new Android-powered in-seat IFE system. Select Android apps that have been pre-loaded onto the system include a geotainment flight map and in-seat ordering of food and drinks. Read article »
5. Delta provides cabin crew with Nokia Lumia 'onboard retail' smartphones
Following an earlier initiative from American Airlines, which has equipped its cabin crew with Samsung handhelds, Delta has provided 19,000 flight attendants with Windows Phone 8-based Nokia Lumia 820 smartphones to be used as a next-generation onboard service and point-of-sale device. Read article »
6. Air Canada's new LCC 'rouge' teams with Disney for customer service training
Air Canada's new discount airline, Rouge, has called in Disney to help train itsight attendants. The airline says it looked at several top customer service providers, with Disney being the most comprehensive and in line with Rouge's objective to create a very different and service-focused culture. Read article »
7. Airlines encourage passengers to provide service feedback via apps and cards
Social media has provided passengers with a powerful platform to voice their opinion on the experience they have with airlines. Besides (pro-actively) getting in touch with passengers via Twitter or Facebook, several airlines have also started to encourage passengers to provide instant feedback via mobile apps and – in a low tech way – via paper cards. Read article »
8. Delta teams up with Westin Hotels for 'Heavenly' onboard amenities
As full-flat beds have now become the industry standard in Business Class – allowing passengers to sleep more comfortable – airlines are looking for additional ways to improve comfort. Delta, for example, has teamed up with Westin Hotels to provide passengers with an in-flight version of Westin Hotel's 'Heavenly Bed' range of pillows and comforters. Read article »
9. Dallas/Fort Worth Airport new security check experience is sponsored by Marriott
Dallas/Fort Worth Airport has partnered with Marriott for a three-month pilot to provide a more calming environment for passengers at the security checkpoint. Ambient lighting, wall art and relaxing music have been installed and passengers can re-pack in a 're-composure' area featuring Marriott furnishings. Read article »
10. Qantas trials location-based 'social listening' in its airport lounges
Qantas is trialling technology that allows it to monitor social media conversations in specific locations such as airport lounges, even if a passenger doesn't mention the airline in a tweet or post. This location-based 'social listening' is enabled by passengers who have turned on the geo-location feature in Twitter or who have checked into Foursquare or Facebook Places. Read article »