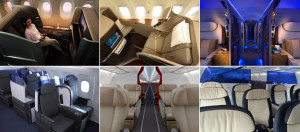 This article is re-published with kind permission of "www.airlinetrends.com".
Passenger expectations continue to be raised by the cabin interior upgrade programs launched by airlines around the world, which sees them introducing more innovative or luxurious products and services, be it private suites in First Class, full-flat beds in Business, or the latest in in-flight entertainment and connectivity.
Initially the upgraded product (and/or service) differentiates the airline from its competitors (as airline upgrade programs are out of sync with eachother), who then over the course of several years start matching – and often leapfrogging – the new standard, thereby initiating another 'creative destruction' cycle.
Shorter product cycles
Meanwhile, just like in other industries, these product cycles have become shorter. Witness the 'fast fashion' revolution created by H&M and Zara in the clothing industry. As Air New Zealand's general manager international Ed Sims observed when the airline introduced its redesigned cabins a few years ago: "There was a time when airlines in our position could imagine six to seven years between product refurbishments, these days customers are so impatient for new developments that we think, realistically, that product cycles should be closer to three to fours years."
New materials
At the same time, airlines have more ways than ever to differentiate their cabins as the cabin interior industry has made huge advances in the development of materials that look stunning and pass all regulations, although there still is a more formidable task left though of convincing top management to bring more 'wow' into the cabin.
Cabin interior launches in 2013
Written by the experts at TheDesignair, we have selected three of the best examples of how premium airlines continue to raise the bar this year, as well as this year's best interior upgrades from (hybrid) low-cost carriers, launched as part of their efforts to target the business traveller segment.
Luxury Airlines Raising the Bar
1. Singapore Airlines further upgrades its cabins
Investing nearly USD150 million in a cross-cabin refresh, Singapore Airlines has unveiled its new First, Business and Economy class seats, as well as Panasonic latest eX3 IFE system. The new design in September made its debut on the airline's new B777-300ERs flying the competitive Singapore-London route, and will also be rolled out on Singapore Airlines' upcoming A350s. Read article »
2. Cathay Pacific revamps First Class with some nice touches
Cathay Pacific is ensuring its cabin products stay at the forefront of people's minds. As the airline's First Class suite wasn't in need of a full redesign, the airline partnered with Foster + Partners, the same architectural company that designed Cathay's 'The Wing' lounge, to look at the suite and see how it could be refreshed. Read article »
3. Emirates new 'Executive A319' features private jet lounge and First Class suites
For travellers seeking a step up from First Class, Emirates' new private jet service aims to raise the bar. Dubbed 'Emirates Executive', the airline has transformed an Airbus A319 into a private jet that features a lounge with chairs, sofa and a table, 10 private First Class suites, and a shower – once only available on its A380s. Read article »
Low-Cost Carriers Upgrading
4. JetBlue unveils new 'transcontinental' A321 interior featuring private suites
JetBlue in 2014 will launch a new transcontinental service between New York JFK, LA and San Francisco, featuring the airline's new 'Mint' Business Class, which is described as "a stylish service minus all of the stuffiness often associated with the traditional front-of-the-cabin experience." Read article »
5. Indonesion low-cost carrier Lion Air launches full-service airline
At a time that Asia's full-service carriers are busy launching low-cost affiliates, Indonesia's Lion Air – the region's second largest budget carrier – is moving in the opposite direction by launching a full-service airline called Batik Air. Read article »
6. Low-cost carrier FlyDubai goes chic with new Business Class cabin
Dubai-based 'no-frills chic' carrier FlyDubai has added a separate Business Class with wider seats and more legroom to its cabin. The airline's fleet of 737-800s already features Boeing's new Sky Interior and a high-definition inflight entertainment system. Read article »