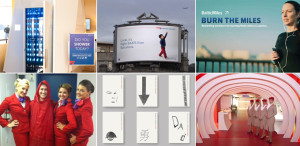 This article is re-published with kind permission of "www.airlinetrends.com".
In order to connect and engage with ever more experienced, connected, and informed consumers, who routinely ignore the commercials and ads thrown at them, airlines around the world are becoming more sophisticated in their marketing activities and are finding new ways to break through the advertising clutter. As such, we are witnessing the birth of many creative campaigns from airlines, be it experiental, social, mobile, digital or traditional media initiatives.
Innovative campaigns in 2013
To recap 2013, we have selected half a dozen innovative marketing campaigns launched by airlines in the past year that in our opinion do a great job connecting with today's mobile and connected consumers who are looking for engaging experiences.
1. Airlines embrace their inner tech-geek
One of the hardest marketing messages to convey is that you are current and understand the market, with Silicon Valley favourite Virgin America being one of the best examples. Recently, airlines such as Delta, American, and British Airways are embracing their inner-geek to stay ahead of the trend-curve and cleverly positioning themself as geek-chic, showing up at conferences such as TED and SXSW and originizing travel hackatons. Read article »
2. BA digital billboards interact with aircrafts flying overhead
BA has custom-fitted digital billboards with surveillance technology that detects and activates the billboards when the airline's flights pass overhead. Located in in London, when the billboard 'detects' a BA flight flying below the clouds that is visible to passers by, a child starts running, pointing up to the sky – chasing the airplane. Read article »
3. AirBaltic's BalticMiles app rewards frequent fliers for burned calories
BalticMiles' new 'Burn The Miles' app offers rewards to frequent fliers who jog enough to burn off the same number of calories as miles they have flown. Passengers are challenged to match every mile they fly with a calorie burned in the space of 24 hours after they land, tracked using the smartphone's built-in accelerometer. Read article »
4. Virgin Atlantic takes to the streets of Boston to surprise its Twitter followers
Taking a cue from KLM's 2011 'Surprise' campaign, Virgin Atlantic took to the streets of Washington DC, Boston and New York City to track its Twitter followers and brighten up an otherwise grey and rainy day. The initiative aimed to add an experiental twist to the airline's 'Flying in the Face of Ordinary' campaign. Read article »
5. Qantas commissions books that can be completed in flight time
Qantas has created a range of new fiction titles for its frequent flyers, selected to correspond with flight times. With the novels – penned by notable Australian authors and stylishly designed – the airline aims to promote its new long-haul routes which are the result of its partnership with Emirates. Read article »
6. Moving beyond shirt sponsorships, Emirates and Delta open lounges at sports stadiums
Soccer's huge popularity in much of the world have made it a magnet for international carriers looking to raise their profile. As part of their sponsorships of major European football teams, Emirates and Delta have opened branded lounges at sports venues that basically serve as a living, breathing ad for the airlines. Read article »