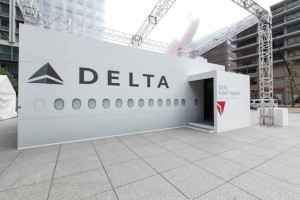 This article is re-published with kind permission of "www.airlinetrends.com".
In order to connect and engage with ever more experienced, connected, and informed consumers, who routinely ignore the commercials and ads thrown at them, airlines around the world are becoming more sophisticated in their marketing activities and are finding new ways to break through the advertising clutter.
As such, we are witnessing the birth of many creative campaigns from airlines, be it experiental, social, mobile, digital or traditional media initiatives.
Delta 'Flight Therapy'
Delta Air Lines, possibly the most active airline when it comes to incorporate so-called 'brand spaces' such as its Sky360 Lounges, in its marketing mix, held a 'Delta Flight Therapy' sensory experience pop-up event in Otemachi, one of Tokyo's business districts.
The purpose-built space was set up in front of an office building between 23 and 25 October.
Inside, visitors could try out the fully flat bed installed in the airline's business class on 747-400s. The Delta Flight Therapy module sported an organic, futuristic ambience, including mood lighting by Izumi Okayasu Lighting Design that changed dramatically in both color and intensity. Ambient background music was produced with Koone, a high resolution sound system developed by Victor Entertainment.
The pop-up space also gave visitors a chance to experience Arobalance, a relaxation aroma developed by Australian company Air Aroma. Each visitor received a sample of the fragrance.
Tokyo is a major hub for Delta, with daily flights to cities in the US and Asia.
Delta 'Photon Shower'
Delta earlier this year also showcased its renewed focus on sleep at the annual TED conference.
The airline hosted a talk from Oxford neuroscientist and sleep expert Dr. Russell Foster addressing jet lag and demonstrated his research in action with a so-called 'Photon Shower' – a small light chamber that conference attendees could enter for a short period of time to help reset their body clocks through a personalized light treatment.