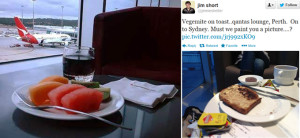 This article is re-published with kind permission of "www.airlinetrends.com".
Airlines such as KLM and Delta are among the carriers that are the most advanced in monitoring social media such as Twitter and Facebook for passenger inquiries and feedback.
KLM's Social Media hub, for example, employs around 100 staff that respond to social media conversations within the hour, 24 hours a day, in ten different languages.
Qantas and Location-based social listening
However, to allow airlines to pick up a conversation on social media about their brand, the messages have to feature the airline's name or a strong reference to it.
Qantas is now trialling technology from Australian start-up Local Measure to help it monitor social media conversations by passengers sitting inside its airport lounges, regardless of whether the user mentions Qantas by name.
The airline already uses other social media monitoring tools such as Salesforce.com's Radian6 for word-based search but people don't necessarily mention keywords like 'Qantas' when they share for example an photo taken inside the Qantas Club Lounge.
The Local Measure tool will pick up social media conversations in a specific location, but only if the consumer has chosen to share their location by turning on geo-location in Twitter or checking into a service such as Foursquare or Facebook Places.
Positive conversations
Qantas Head of Digital Communications, Jo Boundy, tells Australian business magazine Business Review Weekly that the airline's the social media team, which sits within the marketing department, is tapping into the positive feedback for its content marketing strategy.
"It's insanely positive and that's been a real contrast to what you see on our Facebook page, which is pretty toxic, it's a complaint forum and the people there are not always our customers," Boundy says.
"We can amplify [positive feedback] but it's so much more powerful when it's not us talking about ourselves but customers talking about their experience or even better when it's celebrities because of their huge following."

Passenger feedback
However, the biggest benefit for Qantas has been in customer service and group insights.
"They [passengers] don't necessarily go and tell the lounge manager 'I liked my pavlova, I liked my Neil Perry' pie' but they do take photos and tweet about it in real-time with three or four hashtags and suddenly they've given you a very clear indication of what they think of the product inside the lounges.
Our group insights managers are finding that really useful," Boundy says.
"They also might say there's something wrong with the barista coffee machine or there's a leaky toilet, stuff we'd never normally see, and now we're getting it in real time and we're able to give it to the guys at the airport to fix."
In the first phase of the trial, the social media team reported problems in real-time to the lounge managers and on a weekly basis to the customer insight team.
The airline then extended the trial to equip lounge managers at Sydney Airport with iPhones loaded with the Local Measure app. They have it 'read-only' mode so they can act on feedback within the lounge and make human contact with passengers if appropriate but any social media responses are left to the airline's social media team.
Qantas is currently trialling Local Measure in 10 major ports around the world, including London, Dubai, Los Angeles, Singapore and domestic airports.