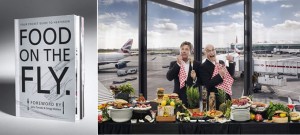 This article is re-published with kind permission of "www.airlinetrends.com".
Heathrow Airport has created its first ever food guide, Food on the Fly, in conjunction with restaurateurs and MasterChef judges John Torode and Gregg Wallace, who have turned their critical gaze on the 73 restaurants, bars and cafés which operate at the airport.
The two are among the UK's best-known food experts and serve as the main judges and presenters on TV competition MasterChef.
The Food on the Fly guide provides a comprehensive overview of dining options at Heathrow, with reviews of the airport's 73 bars, cafes and restaurants.
It also features specially formulated top fives and a breakdown of the eateries by terminal. There are also tips about the type of foods to eat or avoid before flying for those looking to travel well.
"It's often hard to show the full extent of our offering so it's been great working with John and Gregg to produce this comprehensive guide," said Ben Crowley, head of food and beverage at Heathrow.
Appointed to their roles in May as the airport's official 'taste buds', Torode and Wallace were tasked with eating their way around the airport in 80 plates to better understand the airport offering and to set Heathrow a challenge to push the boundaries of airport dining [see video].
London Heathrow partners with Masterchefs
The restaurateurs have also challenged the airport's food and beverage experts to introduce healthier menu choices across the terminals, to create a platform to champion British culinary talent and more small plates for people to enjoy with a beverage. The airport said it has committed to responding to these challenges towards the end of the year.
Gregg Wallace describes their role as "part consultancy, part awareness raising."
"They wanted us to go round and experience their eateries with them and give some feedback, and possibly also show them where we think they might be missing a trick." […] "We're helping Heathrow to produce a booklet to show passengers exactly what's available because surveys show that people travelling through Heathrow really don't know what's on offer when it comes to finding places to eat and drink: they tend to hit the nearest thing to them and are sometimes dissatisfied. People need to know the options."
John Torode said: "We were really amazed by the choice of food and the service at the airport. These people do an incredible job, especially given that they are open from 5am to almost midnight, every day. I think Heathrow has come on incredibly well. The days when you'd get there, it stank and all you could get was a truly dire full English breakfast have gone."
His favourites were the Rhubarb restaurant outlet, where he had an "excellent" burger and chips, and Carluccio's for its "wonderful" pasta. He also recommends Giraffe restaurant and the Caviar House & Prunier Seafood Bar.
A total of 10,000 copies of Food on the Fly are being published and handed out to passengers during the busy summer holiday period, while a digital version is available to download from the Heathrow website.