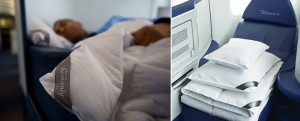 This article is re-published with kind permission of "www.airlinetrends.com".
Delta Air Lines' Business Class customers will soon be able to have a more comfortable sleep as the airline has teamed up with Westin Hotels to create an in-flight version of Westin Hotel's 'Heavenly Bed' pillows and comforters.
Dubbed 'Westin Heavenly In-Flight Bedding', the branded amenities will be available from June on for passengers on US transcontinental routes and between Atlanta and Hawaii.
Passengers on flights longer than 12 hours also will receive a lumbar pillow. A few years ago, the hotel group had a similar agreement for a brief period with United Airlines on transcontinental routes in the U.S.
Says Joanne Smith, Delta's SVP In Flight Service, "In recent surveys, customers have told us that the most important part of the in-flight experience is sleep. The new Westin Heavenly In-Flight bedding product is just one of the new amenities Delta is introducing to ensure customers achieve a restful, rejuvenating in-flight experience."
The Delta & Westin tie-up is part of a series of investments in several other products and services to revamp the in-flight sleep experience. By the end of 2013, 70 percent of all Delta aircraft will have flat beds and by early 2014, Delta's entire wide body fleet is scheduled to be complete.
To create a more restful cabin environment, flight attendants also are now proactively adjusting for appropriate lighting based on the time of day and streamlining cabin announcements to decrease noise disruptions.
Delta has also introduced an 'Express Meal' service that features lighter fare and a one-step delivery process on all international flights departing after 9 p.m. and flights between JFK and London's Heathrow Airport, and will add a so-called 'white noise' channel on its IFE system.
Delta declined to say how much money it was putting into the new sleep strategy, describing it as a "substantial investment, in the hundreds of millions of dollars," which would also cover the installation of flat-bed seats.
Delta goes beyond full-flat seats
As full-flat beds have now become the industry standard in Business Class – allowing passengers to stretch out and sleep in a more comfortable way – airlines are looking for ways to differentiate the passenger experience by coming up with additional services that improve the chance that passengers are having a good night of sleep onboard (for more on this topic see our article in Onboard Hospitality Magazine, "Sweet Dreams").
Says Peter J. Bates, president of Strategic Vision in the New York Times, "As airlines consolidate into smaller groups, they are continuously trying to find ways to gain market share and differentiate their product. This goes in phases. Now that the airlines have gone through the flat-bed phase, they have to create more bells and whistles to differentiate themselves."
Adds Tim Mapes, Delta's SVP Marketing, "The airline that comes to represent a good night's sleep in the minds of customers will be the airline that attracts a disproportionately large share of customers."
Experiental marketing
Delta showcased its renewed focus on sleep at the annual TED conference at the end of February in an innovative way.
The airline hosted a talk from renowned Oxford neuroscientist and sleep expert Dr. Russell Foster addressing jet lag and how the eye tells time and demonstrate his research in action with a so-called 'Photon Shower' – a small light chamber that conference attendees could enter for a short period of time to help reset their body clocks through a personalized light treatment.
According to Delta, the Photon Shower was designed to illustrate – in a fun and creative way – how serious the airline is about ensuring its passengers can sleep on its planes while they are en route to their destinations.
The Photon Shower, along with Delta's new amenity kits, charging stations and a juice bar, were located in Delta's 'Power Up' lounge, a space designed to help revitalize and energize TED attendees.
Conference goers could also relax and wind down in Delta's 'Power Down' lounge, a second 'brand space' featuring flat-bed seats with Westin Heavenly In-Flight bedding, nap pods, and white noise calming music.
Delta also installed a 'Sleep Bar' at the Westin Long Beach to promote its new inflight amenities partnership with Westin Hotels.
Tryvertising
Delta's partnership with Westin is also a good example of the 'tryvertising' trend (coined by trendwatching.com and featured several times before on airlinetrends.com).
With the 'Westin Heavenly In-Flight Bedding', Delta can offer passengers a quality product, while for Westin the partnership is a smart way to let Delta passengers try its 'Heavenly' line of sleeping products.
On a similar note, Delta in early 2012 introduced a premium service in partnership with German automaker Porsche at its Atlanta hub for its highest-tier Diamond Medallion customers.
Selected arriving passengers are escorted from the plane to a waiting Porsche luxury vehicle for a ride to their cars in the parking lot or another terminal for a connecting flight. Porsche has provided the vehicles to Delta free of charge, but has placed information about the car models in the vehicles and in Delta Sky Lounges at the airport.
Delta has also partnered with liquor brand Diageo to install 'The Luxury Bar' at its airport lounges in the US.