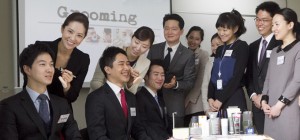 This article is re-published with kind permission of "www.airlinetrends.com".
While the metrosexual trend, featuring David Beckham as its icon, has been coined byMarian Salzman almost a decade ago and has been declared passé many times before, the South Koreans are having none of it.
Being one of the most competitive and beauty-conscious countries in the world (plastic surgery is common practice), South Korea is also one of the most 'attractive' markets for male cosmetics, with make up for men being the latest craze.
According to Euromonitor, South Korea is the biggest market for male grooming products, accounting for 18 percent of the world's male cosmetic market in 2011.
Eyeliner and so-called BB cream (a foundation like tinted cream that is primer, protector, concealer and skin regulator all in one) are considered perfectly acceptable for male celebrities and for an increasing number of ordinary men.
Male grooming
CNN now reports that South Korea's flag carrier, Korean Air, has also gotten onto the male cosmetics bandwagon. Last month, 74 new male recruits gathered at the Korean Air flight attendant training center in Seoul to learn all about skin care, makeup and grooming.
The so-called "image making for service men" made sure all the new staff were well versed in the application of sunscreen (to protect skin from premature aging), skin care (to ensure smooth, clean and blemish free faces) and the correct application of BB cream.
In the past, Korean Air's makeup classes have been available only for its female staff, and this marked the first time its male staff received such lessons.
The airline brought in makeup professionals for the occasion, which was geared towards the airline's new ground staff.
Flight attendants did not receive the makeup training. "We plan on continuing the image-enhancing education, including basic makeup training, in the future," said Korean Air public relations representative Hyun-mook Cho.

Female Flyers
Overall, Korean Air seems to be sensitive to the specific needs of the genders.
The airline's Prestige Lounge at Incheon Airport features a dedicated area for female travellers, which includes a restroom, sleeping room and powder room.
Korean Air is also one of the few airlines in the world to dedicate bathrooms onboard its aircraft for use by female passengers only.
The airline's 'ladies-only' lavatory is decorated with pink colored wallpapers, has a diaper board for babies and provides extra cosmetics.