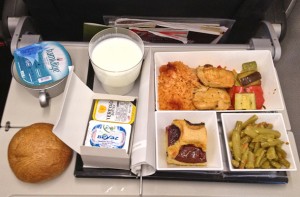 This article has originally been published by Jaunted.
We have all had a terrible meal on a flight before. In fact, we have shown you some of the sadder trays slid in front of us. With this new series of amazing airline meals, we can revel in the airline culinary delights and give kudos to the airlines that got it right.
While it's extremely rare to find an airline with as large a variety of vegetarian meal options asTurkish Airlines, we already opined on this at length last month.
Now let's get to the meat of the matter, literally.
All meat served on Turkish Airlines is halal, so clicking the box to request the "Moslem Meal" is redundant.
As we recently discovered, even flights as short as our 4-hour trip from Madrid to Istanbul (on a brand new 737-800 with Boeing Sky Interior!) see passengers presented with printed menus and entree choices (even in Economy, where we were).
Our choice on TK 1858:
Grilled Chicken Medallions with mustard curry butter, ratatouille, tomato rice, french green beans in olive oil, and plum cake. (The other option was "Tas Kebab," or traditional beef stew in tomato sauce).
After coming off a transatlantic Alitalia flight with congealed pasta (here's a Vine to prove it), this perfectly spiced chicken almost made us feel human again.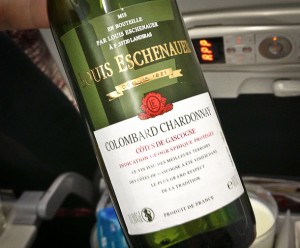 Add to it the salty yogurty goodness of Turkey's beloved Ayran drink, and there you have a far better meal than what is expected of economy these days.
Much of the credit may go to the fact that Turkish Airlines employs the Turkey branch of upscale Austrian caterer DO&CO (you'll also find their food on Austrian Airlines).
If you have had an airline meal that you just need to rave about, let us know via email here.
We would love to hear about them and then, ultimately, add them to our airline bucket-list.
If Ayran isn't to your liking, the wine served onboard is either French or Turkish!
[Photos: Jaunted]