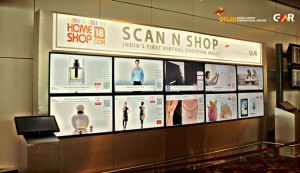 This article is re-published with kind permission of "www.airlinetrends.com".
Shopping on the Internet is so old hat – so it seems.
Welcome to 2013, where pointing your mobile at virtual products on the wall and ordering them on the spot is the new way to shop.
At New Delhi Airport in India, travelers can view luxury items on a virtual shopping wall by scanning the item's QR (Quick Response) code with a smartphone. Perfume, jewellery, digital cameras and mobile phones are among the luxury items that can be ordered from the on-screen menu.
Shoppers can't pay for the products using their phones yet and instead have to pay on delivery.
But the retailer behind the virtual store, Homeshop18 says it will introduce mobile payments in future.
Not a novel experiment
The virtual shopping wall, called 'Scan N Buy' has just been introduced at the airport, but it's not a new idea.
In South Korea, virtual shopping has been blending into people's everyday lives, with Tesco's South Korean brand, 'Home Plus' launching virtual supermarkets at train stations and bus stops for time-pressed commuters.
The virtual shelves look as they would in a physical supermarket, but instead you're scanning 2D product images and arranging home delivery through your smartphone.
With the number of smartphone users only set to rise and convenience driving virtual shopping, the technology is showing its place, at least if you can get an internet connection.
But what about virtual shops becoming a fixture at airports?
Last year, London Gatwick and Tesco briefly trialled an interactive, virtual grocery store on passengers at the airport.
Squeezing in a week's shop while waiting for a plane is one way to use the technology; impulse buying expensive gadgets and gizmos is another.
Its popularity at Delhi International Airport will be interesting to watch.
By Louise Driscoll, Terminal U