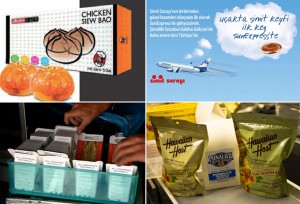 This article is re-published with kind permission of "www.airlinetrends.com".
Airlinetrends.com has reported earlier how Canadian low-cost carrier Westjet has differentiated its buy-on-board catering offer by partnering with local, often family-owned, restaurants across Canada for its buy-on-board catering program.
Unlike many pre-packaged airline snacks, WestJet's sandwich options offer fresh, local flavors from the city of departure.
As the number of airlines – including full-service airlines – that offer buy on board (BOB) catering increases, Westjet's local BOB initiative is part of a trend that sees carriers looking at ways to add special touches to the paid-for menus on offer.
This may go down well with the growing number of passengers that are happy to pay for a quality onboard meal or snack, instead of the cut-down complimentary offer served on many full-service carriers on short-haul routes.
Here's a look at some 'local BOB' catering offers from airlines around the world.
AirAsia
AirAsia's 'Café' menu features options such as chicken siew bao from popular local Malaysian brand Mr Siew Bao (RM 4; USD 1.30), as well as bubble tea from Taiwanese specialist tea maker Chatime (RM8). The airline says it hopes the popular bubble tea drink will boost its in-flight sales by two percent over the next 12 months.
Transavia
Passengers traveling with Dutch low-cost airline Transavia can choose from a range of sandwiches (EUR 4.50 to 5.00) from local producer Sanday's. Not your typical airline sandwich, this product is made by hand on the day of departure and uses organic bread and quality ingredients (video here). In fact, InflightFeed has voted the Sanday sandwich as one of the best paid-for sandwiches in the sky.
Hawaiian Airlines
Hawaiian Airlines, meanwhile, has teamed up with local food producers to provide passengers with tastes from Hawaii. Kona Chips, a family owned business which has been around for 50 years is on the menu, along with the Kauai Kookie company and the Punalu'u Bakeshop, which all add a local element to the in-flight catering offering.
Hawaiian's premium meal and snack offerings also include products such as Primo Popcorn's Wasabi Ranch or Li Hing Pineapple flavored popcorn, Guava Macadamia Kaua'i Kookies, Tanioka's Li Hing Mango Slices and Hawaiian Host Chocolate Covered Macadamia Nuts.
Promoting their BOB further Hawaiian has also posted several videos online that tell the story of local brands served by the airline, such Primo Popcorn (video) and Kona Chips (video).
Sun Express
A localized buy-on-board initiative that really stands out is a recent initiative from Turkish low-cost airlineSun Express.
Inspired by an idea from one of the airline's cabin managers, Sun Express teamed up with Turkish bakery chain Simit Sarayi, which operates hundreds of outlets across Turkey and is credited with having modernised the way Turkish people enjoy the famous savory sesame ring (called simit in Turkish) and other pastries such as börek and açma.
The Simit Sarayi range includes options such as a warm simit with cheese (EUR 2), while simits with fillings such as ham, cheese, salamis, red peppers and cucumbers can be purchased for EUR 4.
According to Sun Express, the main result of the tie up with Simit Sarayi is that the airline's BOB concept is no longer seen by passengers as another ancillary fee thrown upon them, but as a quality offer for which they are happy to pay.
Cabin crew also reported a more happy atmosphere on board with customers exchanging comments with one another about the menu options. The Simit Sarayi 'onboard bakery' is available on all Sun Express flights operating out of Istanbul's Sabiha Gökçen Airport.