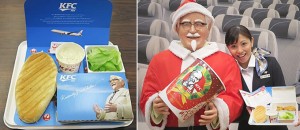 This article is re-published with kind permission of "www.airlinetrends.com".
Japan Airlines (JAL) has developed a reputation when it comes to collaborating with well-known consumer brands in order to add an extra touch to the onboard experience, a practice dubbed 'Branded Brands' by trendwatching.com.
Branded amenities
For example, JAL has recently launched partnerships with Shisheido to develop special in-flight menus to celebrate the 5th anniversary of its domestic First Class during December 2012, while a collaboration withJean-Paul Hévin will see JAL serving macarons from the French master chocolatier in First Class and Business Class until January 2013.
Meanwhile, passengers In Premium Economy are served icecream from artisan brand Dean & DeLuca.
In First Class, JAL offers passengers Bose noise-cancelling headphones, as well as pillows and an extra matrass pad that have been custom-made for the airline by Tempur.
JAL's upcoming 'Sky Suite' B777-300 aircraft will feature pillows and matrass pads made by Japanese specialty brand Airweave in First and Business, while the airline's new 777s and B787 Dreamliners feature so-called 'washlet' toilets from Japanese sanitary brand TOTO.
For more on how airlines can improve the passenger experience by teaming up with well-known brands, see our article for the Airline Passenger Experience Association (APEX).
JAL AIR Series
In recent years, JAL has also partnered with several Japanese fast food chains in order to recreate their signature dishes as in-flight meal and offer passengers a taste of Japan at 30,000 feet.
Following earlier collaborations with local food chains such as Mosburger (AIR Mosburger), Yoshinoya (AIR Yoshinoya) and Edosei (AIR Nikuman), JAL has just announced its latest partnership with fastfood chain Kentucky Fried Chicken, the 7th collaboration in the 'JAL AIR Series'.
The 'JAL x KFC' tie-up, dubbed 'AIR KFC', is the second time that JAL has partnered with a non-Japanese fastfood chain. When the carrier launched the Boston route in April 2012, the airline collaborated with US donut chain, Mister Donut, to serve 'AIR MisDo' on the flight from Tokyo to Boston.
AIR KFC
JAL will serve 'AIR KFC' meals on select international flights departing from Tokyo between December 2012 and February 2013. According to the airline, KFC is hugely popular in Japan during the festive season, with many considering it a must-have meal on Christmas Eve, so the meal would "bring customers a festive cheer on board."
The 'AIR KFC' meal includes one drumstick, one boneless chicken breast fillet, a piece of flat bread made especially for the occassion, a cup of coleslaw, and lettuce leaves. Passengers can enjoy the taste of KFC's 'secret recipe' of 11 herbs and spices 'au naturel', or as a sandwich by sandwiching the lettuce leaves and chicken fillet in the bread, and topping it off with special mayonnaise.
JAL says it has a lot of research in order to preserve the same taste and texture of KFC up in the air. Similar to other dishes from the JAL AIR Series, passengers have to 'assemblage' their meal themselves in order to keep the special flatbread as fresh as possible. An instruction leaflet is included in the meal.
Unlike other recent dishes from the JAL Air Series, AIR KFC will only be available in Premium Economy and Economy Class. It will be served as the second meal service before arrival on flights from Tokyo Narita to New York JFK, Boston, Chicago, Los Angeles, San Diego, London Heathrow, Paris, and Frankfurt.