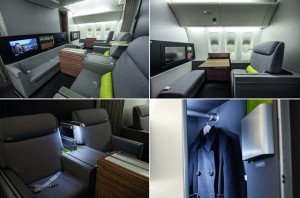 This article is re-published with kind permission of "www.airlinetrends.com".
TAM, the ambitious flag carrier of Brazil which earlier this year merged with LAN from Chile to create a Latin American airline giant, has just unveiled new cabin interiors – designed by Priestmangoode – to mark its arrival on the world stage.
Says Priestmangoode Director Luke Hawes: "Our work for TAM is crucial to their brand development, giving them the customer experience they need as they move up to become a major international carrier. The designs we will roll out across their entire fleet will present them as an important international player and give them the tools they need to compete with the world's other major international carriers."
TAM Interior redesign
In 2009, TAM hired Priestmangoode to redesign the entire onboard experience – from cabin architecture, seats, galleys and lavatories to staff uniforms, in-flight amenities and the graphic user interface (GUI) of the IFE system.
According to TAM Brand Manager Ricardo Cruz, the airline aims "to put TAM on the map" with the new cabin interior program, which is "inspired by everything Brazil has got to offer."
A nice illustration of this is the floor pattern of the bathrooms which is inspired by the famous Copacabana sidewalks in Rio de Janeiro.
Four classes
TAM's new cabin interior has already made its debut on three new Boeing 777-300ERs delivered to the airline in the past few weeks. The new B777s can seat 368 passengers in 4 classes: First, Business, Space + and Economy.
TAM's Economy cabin has received a colourful makeover and features rows of seats – manufactured by Weber – in various bright colours that reflect the carrier's Brazilian origin: lime green, aqua blue and a brighter shade of TAM's corporate red. TAM will also introduce a new 'Space +' product, which offers similar seats as in Economy, but with a larger seat pitch and recline, as well as a different seat colour.
TAM's new Business Class will feature 48 full-flat seats in a 2:4:2 configuration that are designed by Priestmangoode and manufactured by Recaro. Compared with the colourful Economy interior, the Business Class cabin will have a more neutral, corporate look and feel with the aim of offering passengers a "home office in the sky." However, as TAM's new Business Class seats will only become available from mid-2013 on, passengers in Business will be seated in TAM's current recliner seats, which rather detonate with the new cabin environment.
First Class
It's the concept behind TAM's new First Class cabin though that generates the most attention.
Looking to provide passengers in First Class with a "home away from home" experience, the four-seat cabin presents the idea of a living room, with cool grey fabrics, a couch, individual closets, a reading lamp, a dining table, cushions, a Nespresso coffee service, and a library with books, Wallpaper travel guides, and a range of magazines. Wooden tables and consumer-style IFE controls all add to the domestic feel.
Says PriestmanGoode's Luke Hawes, "Our concept for TAM's new First Class was 'Home away from Home'. We wanted to offer a contemporary design, bringing all the comfort of the home on board the aircraft. We drew inspiration from furniture and materials that you would have in your own living-room: soft, luxurious fabrics, real solid wood tables, custom made reading lights made from solid aluminium and finished in  Matt Nickel plating. We have moved away from hard finishes, creating a softer, more high-end interior look and feel."
TV element
The IFE screens are also worked into a larger wall element that contribute to the living room ambiance. Luke Hawes explains "We wanted to design an IFE screen that looked more in keeping with consumer hi-end electronic products, and also integrate a libary for use with the airline literature and Wallpaper travel guides which adds to the 'home from home' feel of the cabin. As this is an expensive piece of equipment, it was important to design something that was hardwearing. We design a lot of hospitality interiors, so have experience designing entertainment systems that need to withstand frequent use and occasional knocks and bumps."
Ottoman sofa
To further emphasize the social element, the ottomans of the two middle seats – developed by B/E Aerospace – have been combined into a very spacious sofa (seatbelts included), so parents can for example invite their kids to join them for dinner. For this reason, the seats also feature an extra-large foldable table.
Furthermore, ambient light on the floor is used to create a lightweight, elevated look of the seats, while the lack of overhead bins provides passengers with a roomier cabin. Each passenger can also make use of an individual wardrobe to store jackets and other personal belongings. Although the cabin has a very open setting, there is also an option for a privacy screen between the two middle seats.
TAM says the new cabin interiors will be rolled out across its full wide- and narrowbody fleet in the coming years.