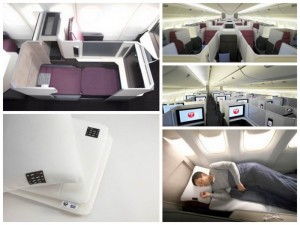 This article is re-published with kind permission of "www.airlinetrends.com".
Declared bankrupt in 2010 after a decade of losses, Japan Airlines (JAL) last week returned to the Tokyo stock exchange in a USD 8.5 billion IPO that followed a government-backed restructuring under which the airline shed more than a third of its jobs, persuaded its unionised pilots and staff to take big pay cuts, slashed pension payouts and retired older fuel-inefficient aircraft.
In the next five years, JAL aims to boost international capacity with 25 percent, as it contends with a shrinking population and new competition from low-cost carriers at home. Similar to local rival All Nippon Airways (ANA), JAL is banking on Boeing's 787 Dreamliner (of which it has received 4 so far, with more than 40 on order) for its expension.
JAL is also seeking to close the service gap with ANA, and – following years of underinvestment – just announced a massive upgrade of its international fleet. Called 'New Sky', the upgrade program will revamp seats in all cabins for the first time in 10 years, as well as introduce new catering concepts. JAL's Business Class, however, is receiving the most extreme makeover.
Japan Airlines 'Sky Suites'
Dubbed 'JAL SKY SUITE', the new seats will be the first time that JAL is installing full-flat beds in Business Class (even JAL's new B787s still feature angled lie-flat seats). Says JAL's VP Marketing Jun Kato, "We felt we were lagging behind other carriers where full-flat seats are standard."
According to JAL, it wants passengers to "experience comfort and privacy similar to First Class" with its new Business product and the airline is installing an adapted version of B/E Aerospace's 'Super First Class'seat for its Sky Suite. A luxury version of this B/E Aerospace seat is used as First Class seat by several other airlines. Despite a 2-3-2 layout, a staggered configuration allows each passenger to have direct and unobstructed aisle access.
Cubicle culture
The 49 new SKY SUITES are extremely private, and are descibed by Australian Business Traveller as "ensconced in their own cubicles, going further down the privacy path than even Cathay Pacific's business class design." Whereas airlines such as Lufthansa have indicated that their passengers prefer an open, more social setting JAL's new Business Class suites seem to have been strongly influenced by Japan's culture of privacy.
JAL's SKY SUITES also resemble British Airways' Club World Business Class product, which are also in a 2-3-2 configuration and wich allows passengers "to enclose in their own personal space with a touch button privacy screen" (although BA's seats have drawn criticism for feeling a bit cramped.)
Amenities
JAL's new 'Business cubicles' sport a class-beating 23 inch monitor (the same as installed in First) with atouchscreen remote control, while the airline has collaborated with Weava Japan to create mattress pads (available upon request) that are made from very finely weaved fiber resin and provide support for the lower back. And, similar to ANA, JAL will fit TOTO washlets – electric toilet seats with a water spray feature – in the First and Business bathrooms.
The new seats and cabin interiors will be installed on JAL's flagship fleet of 13 Boeing 777-300ERs, and the first retrofitted aircraft will debut on the Tokyo-London route in January 2013. The seats will also make their way onto JAL's B767-300ERs in the second half of 2013.