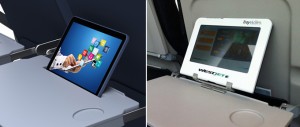 This article is re-published with kind permission of "www.airlinetrends.com".
By Louise Driscoll, Terminal U
Let's face it, economy class was never built for comfort. But the experience can often fall short of what we expect at the most basic level.
Take the flimsy tray table, for example, which is more 'tray' than table. It's capable of holding your meal steady, until the plane hits turbulence and your drink starts sloshing all over the place, or lands in your lap when the seat in front catapults in your face.
Some major airlines, including Singapore Airlines and Cathay Pacific have introduced sturdy cup holders in economy on long-haul flights, but not all carriers have thought them through, as this video shows.
Economy tray tables also haven't been engineered for the growing numbers of passengers using their own iPads, laptops and other personal electronic devices in their seats.
A few aircraft manufacturers have been working to make tray tables a bit more user friendly for the tablet user, but the incentive is largely to help airlines make money.
The 'iHolder'?
US firm Smart Tray International recently unveiled, a new economy class tray table with a built-in groove for docking personal electronic devices.
If the new version catches on with airlines, passengers will be able to watch content on their iPad or iphone screens hands-free with the tray table up or down, and charge their devices at the same time.
With this set up, airlines could also install their own tray-table based inflight entertainment systems and bring in advertising revenue with targeted ads on-screen.
Airlines aren't going to offer these improvements without seeing a return on their investment, after all.
Canada's budget airline, WestJet has already been renting out Android tablets that clip onto the back of the seat tray.
The devices are preloaded with films and TV shows (and targeted ads) and can be watched hands-free, without taking up space on the tray table itself.
The airline has been testing the service on planes it bought from Boeing without seat-back inflight entertainment systems, which are heavier, more expensive and require seat modification or replacement.
In future airlines will need to offer passengers more than just films and TV shows on their screens to catch the attention of the small but growing BYO tablet crowd. This could include retail experiences similar to an online store.
With all these changes being suggested, we're still left wondering why the most important one has been ignored: redesigning the tray table so it won't crush you when the passenger in front decides it's bedtime.