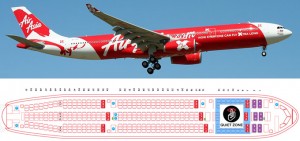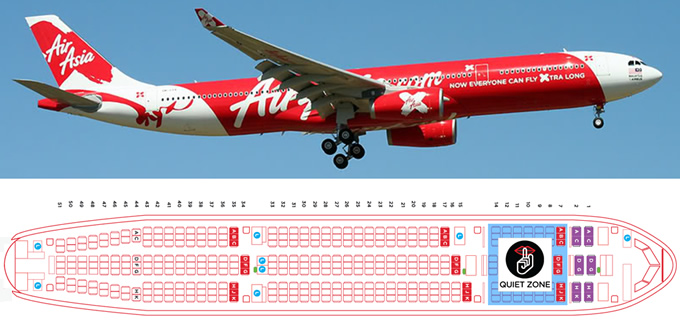 This article is re-published with kind permission of "www.airlinetrends.com".
Two recent surveys conducted by TripAdvisor found that 40 percent of U.S. travellers said they would pay extra to sit in a designated quiet section of the plane, while nearly 80 percent of Britons agreed there should be child-free zones on board, and a third of of respondents would pay more for their flight if there were no children on board.
Quiet Zone
Following a controversial decision by Malaysia Airlines to introduce a 'child-free cabin' on the upper deck of its new A380 superjumbo (Business and Economy), Malaysia-based long-haul low-cost carrier AirAsia X has announced it will be launching a so-called 'Quiet Zone' on its fleet of Airbus A330s.
Starting in February 2013, the airline will create a "Quiet Zone" in the front section of its widebody aircraft, located between the airline's Premium Class section and the front galley.
Children younger than 12 years old will not be able to book seats in the Quiet Zone, and passengers opting for the zone will be asked to keep noise to a minimum, while there will also be special ambient lighting in the cabin. Passenger will also be among the first to disembark.
The dedicated zone will consist of the first eight rows of the Economy section (rows 7 to 14), and as the front area already houses the airline's Premium Class, turning this part of the aircraft into a Quiet Zone will also be appreciated by AirAsia X's premium passengers.
Similar to Malaysia Airlines, AirAsia X states that the new Quiet Zone is not guaranteed 'kids-free', saying that "AirAsia X reserves the right to seat a passenger with a child or infant at the 'Quiet Zone' during situations deemed necessary for operational, safety or security reasons."
There is no additional fee to reserve a seat in the 'Quiet Zone' other than AirAsia's standard seat reservation fee of RM 35 (USD 11) in Economy and RM 110 (USD 35) for extra-legroom 'Hot Seats'.
Empty Seat Option
AirAsia X's 'Quiet Zone' initiative seems to be part of a strategy by the airline to provide passengers in Economy with a more comfortable experience during the flight.
In early 2012, the airline also introduced an innovative ancillary product called 'empty seat option', which gives passengers a chance to reserve one or two empty seats next to them for a fee.
Not only do unused seats generally make the travel experience more comfortable for passengers, but they give the airline an opportunity to generate some revenue on seats that are normally non-productive assets once the airplane doors are closed.
How it works:
After a passenger has signed up for the 'empty seats' service, AirAsia X emails the status of empty seat(s) availability between 4 and 72 hours before flight departure.
The passenger then pays a small fee (ranging from USD 10 to 16) to reserve the additional seat(s). If the empty seat(s) are ultimately booked by other passengers, the fee will be refunded automatically to the customer.
AirAsia X estimates earnings of up to USD 1 million in 2012 with its empty seat ancillary product.