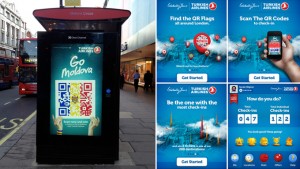 This article is re-published with kind permission of "www.airlinetrends.com".
The Olympic fever is gripping sports fans the world over. Tapping on the trend of real-world engagement through social media, which we highlighted in SimpliFlying's recent webinar, Turkish Airlines has transformed national flags into QR codes and then placed them on digital bus shelters all over London to engage Olympic fans.
Working with their agency, McCann, Turkish Airlines has also added a little gamification on top of it by turning it to a London scavenger hunt. Those who find and scan the QR Code with their mobile phone automatically "check-in" to that flag via the mobile site.
To win a ticket to one of Turkish Airlines' 200 destinations, all one has to do is be the participant with most check-ins. Those familiar with location based tools like Foursquare would find this a breeze.
Of course, the underlying aim here is to co-relate the number of diverse countries represented at the Olympics to Turkish Airlines' own diverse destinations. Even if a person doesn't win a ticket, at least he or she knows Turkish Airlines flights to the particular destination on the bar code.
In the mobile site, users can see the closest bus shelters, learn their check-in data and general stats. This video shows the QR Flags campaign in action at a bus stop in London.