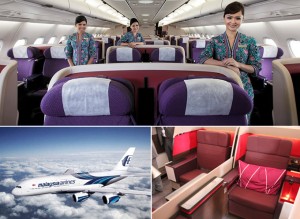 This article is re-published with kind permission of "www.airlinetrends.com".
Following Singapore Airlines, Korean Air (June 2011) and China Southern (October 2011), this year two more Asian carriers will add the first Airbus A380 to their fleets, adding capacity, space and subsequently, innovative solutions for their passengers.
Singapore Airlines, who took delivery of the aircraft in 2007, now operates a total of 17 superjumbos, which feature the airline's latest iteration of fully flat Business Class seats as well as individual suites in First Class.
Korean Air, meanwhile features an all-business class upper deck, Absolut Vodka branded bars and lounges and an in-flight duty-free shop.
Joining the list of superjumbo carriers this year are Malaysia Airlines (June) and THAI (September), who both are launching their new A380s amidst ambitious restructuring plans.
Malaysia Airlines' (MAS) A380s are configured in a spacious 494-seat layout and feature 8 First Class suites on the lower deck, 66 lie-flat Business Class seats on the upper deck (in a 2:2:2 configuration) and 420 economy seats split between the two floors. The new interiors have been designed by Priestmangoode.
First Class: widest seats in the sky
Indicative of the airline's clever usage of space on board the A380 as well as its newly-grounded emphasis on luxury, Malaysia's First Class suites are the widest of any airline's, measuring 40 inches by 87 inches – 5 inches more than the next-widest, Singapore Airlines – and a 23 inch IFE screen.
Additionally, Business Class passengers have the option to order meals through the airline's 'Chef On Call' service – previously only offered to First Class passengers – which "allows travelers to preorder from a substantial menu of gourmet meals."
Kids-Free Upper Deck
Perhaps the most differentiating factor between Malaysia Airlines' A380 configuration and others is the airline's bold decision to implement a 'kids-free' space throughout the entire upper deck of the aircraft.
The controversial decision was made last year by the airline in order to cater to its anticipated heavy business traveller load on upper deck seats, where all business class seats are located, as well as to make the 70 economy class seats on the upper deck more attractive to the growing number of business travellers who fly in Economy.
The implementation followed a similarly controversial ban on babies in MAS' 747 First Class cabins.
In Malaysia Airlines' own words, "Another first being planned is to showcase the economy class zone in the main deck, enhanced and designated as a family and children friendly inflight zone." However, the airline also issued a statement that "where there is overwhelming demand for seats in economy class from families with children and infants, resulting in full load in the main deck, we will still accommodate such demand in the 70-seat upper deck economy class zone of our A380."
Rebranding
Malaysia Airlines brought the A380 into service with an aggressive marketing campaign and rebranding effort to "imbue the brand with touches of both luxury and Malaysian hospitality."
In association with communications agency Landor, a new visual identity was created, featuring a flipped blue wau bulan (Malaysia Airlines' moon-kite logo) as well as a blue-intensive livery and interiors to create a contemporary look-and-feel.
These features were applied to the new A380, differentiating the aircraft's imagery from the rest of the Malaysia Airlines fleet (factsheet here).
Malaysia Airlines launched revenue service with its first A380 on July 1st 2012 on the Kuala Lumpur – London route and will initially serve the route with a thrice-weekly non-stop service, increasing to a daily service from the end of August 2012 following the delivery of the second of six A380 superjumbos that the airline has on order.
The airline will also launch daily A380 services between Sydney and Kuala Lumpur in November 2012.
With Malaysia Airlines's current position of revamping its fleet, image and service after posting a USD 800 million loss for its financial year, the biggest ever loss in its corporate history, the addition of the A380 aircraft to Malaysia Airlines' fleet can be seen as a key component in the airline's efforts to return to profitability.