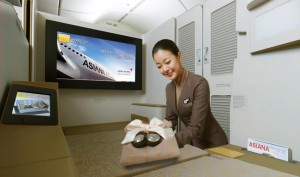 This article is re-published with kind permission of "www.airlinetrends.com".
While Korean Air recently was named 2012′s most innovative airline by airlinetrends.com (full ranking here), South Korea's other premium full-service carrier – Asiana Airlines – has raised the bar with the launch of its new First Class Suite.
Asiana, which was recently named Best Airline in Asia in the 2012 Skytrax 'Airline of the Year' ranking, says its 'OZ First Suite' (named after the airline's IATA code) is based on the concept of "hotel suites transplanted in an air carrier."
Largest IFE screen in the sky
The most eye-catching feature of the new enclosed suites are 32-inch Panasonic high-definition screens – the world's largest in-flight screens, which allow passengers to watch movies with a clear view even from a 2-meter distance as their seats are fully reclined.
The suites also have touch-sensitive 'seat function control units' set up in the armrests for easy control of the seat and adjustment of the mood lighting at different points during the flight, including a "star light" option. A "do not disturb" sign is included in the control unit for more privacy.
Asiana's new OZ First Suite is also equipped with an individual air ventilation system, a mini-bar and a cabinet for papers and laptops.
The two seats located at the center of the cabin feature a seperator which can be lowered. While an ottoman across from the seat allows for a face-to-face meal for the convenience of passengers travelling together.
The introduction of the new OZ First Suite follows the rollout of Asiana's new 'OZ Quadra Smartium' Business Class seat that started in August 2010.
Asiana's new First Class product is currently offered on Asiana B777-200ER aircraft that operate between Incheon and Tokyo Narita, Ho Chi Minh and Chicago and the airline says it will equip one more aircraft with the new suite by August 2013.