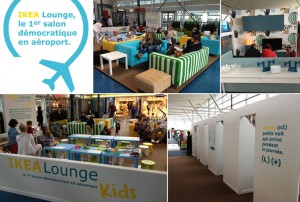 This article is re-published with kind permission of "www.airlinetrends.com".
Aéroports de Paris, which operates Paris Charles de Gaulle and Paris Orly airports, has developed a reputation when it comes to establishing innovative partnerships with well-known brands in order to create what trendwatching.com calls 'Brand Spaces'– branded areas that offer passengers a space to relax before their flight free of charge.
Following collaborations with Sony (Salon Vidéo HD), Samsung (SoundCorner), and Philips (light therapy pods), the airport has now teamed up with IKEA to create a public airport lounge accessible for all passengers.
Democratic Lounge
In what IKEA has dubbed "the first democratic airport lounge open to everybody," travellers at Paris Charles de Gaulle Airport can relax in a 220 square meters lounge area that features a large number of sofas, table, lamps and tv's from the Swedish furnishing giant.
Passengers can wait for their flight while reading or watching TV from a comfortable sofa and tired travellers can even hop into an IKEA bed located in one of the nine bedrooms of the space for a short nap.
Meanwhile, children can enjoy themselves in a secure area supervised and entertained by qualified childcare instructors.
Says IKEA in its press release, "Holiday departures are often a source of stress and nervousness. To make the journey start already in the airport, IKEA and its partners have designed a space where the whole family can relax. Because waiting time in the boarding area is on average 1 hour and 43 minutes, IKEA wanted its expertise in interior design to serve the economy class […] showing its commitment of improving the everyday life for the many."
The IKEA Lounge is open from July 13 until August 5th in the Terminal 3 at Charles de Gaulle Airport.
More images of the lounge here and more examples of airport brand spaces here.
IKEA Brand Spaces
For IKEA, the airport lounge is its fourth 'brand space' campaign launched in Paris in recent years.
In January 2012 the company constructed an entire apartment inside the Auber Metro station in Paris to demonstrate how IKEA storage goods can make even the smallest flat comfortably habitable.
In March 2010, IKEA turned the waiting areas at four Paris subway stations into a small living room, featuring best-selling pieces such as the KLIPPAN and EKTORP sofas.
In December of the same year, the same concept was applied to 12 bus shelters across Paris in order to offer travellers a comfortable seat when waiting for their bus to arrive.