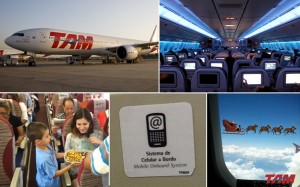 This article is re-published with kind permission of "www.airlinetrends.com".
Established in 1976 as a regional carrier, TAM has quickly become the flag-carrying airline of Brazil after the demise of Varig in 2006.
TAM is currently in the process of merging with LAN from Chile to create one of the largest airline groups worldwide, called LATAM Airlines Group.
The merger between LAN and TAM is a response to the consolidation of the airline industry in the USA and Europe, as well as the rise of 'Gulf Gullivers'such as Emirates, who are increasing their presence in Latin America due to the region's high growth perspective.
Based at São Paulo's two overburdoned airports, Guarulhos International Airport and Congonhas (domestic flights), TAM carried 37.7 million passengers in 2011 and today flies to 42 destinations in Brazil and 19 destinations internationally, with a fleet of 156 aircraft.
The airline has been growing rapidly in recent years, taking advantage of Brazil's expanding middle class, many of whom are abandoning intercity buses and flying for the first time.
In 2011, demand for domestic flights in Brazil increased by 16 percent and growth is expected to continue with 7 to 9 percent in 2012. TAM is also expected to benefit from the world cup soccer and the Olympic Games, which will be held in Brazil in respectively 2014 and 2016. Following a 22 percent increase in revenue of its international operations in 2011, and will take delivery of 8 B777s during 2012 and 2013.
Besides its rapid expansion, TAM aims to differentiate itself with innovative products and services, such as offering passengers a 1970′s-style retro experience onboard or letting kids help distribute candies before the flight takes off.
The airline has also been the first carrier in Latin America to introduce onboard connectivity, operate biofuel-powered flights and will unveil an entirely redesigned cabin interior in the second half of 2012.
Interior redesign
In 2009, TAM hired Priestmangoode to completely redesign the entire passenger experience for the airline – from cabin architecture, seats, galleys and lavatories to staff uniforms and in-flight service provisions, such as meals.
Priestmangoode has also been responsible for the design of the graphic user interface (GUI) of the Panasonic IFE system, so the look and feel of the system would be an extension of the new cabin interior. The new interior will make its debut on TAM's Boeing 777-300ERs which will be forthcoming from August 2012 onwards, and TAM's existing fleet of narrow- and widebody aircraft will also be retrofitted with the new cabins.
Says Priestmangoode Director Luke Hawes: "Our work for TAM is crucial to their brand development, giving them the customer experience they need as they move up to become a major international carrier. Our experience of flying with TAM is that their service is exceptional. But their brand presentation currently just doesn't match it. The designs we will roll out across their entire fleet will present them as an important international player and give them the tools they need to compete with the world's other major international carriers."
In an exclusive preview for airlinetrends.com, TAM Brand Manager Ricardo Cruz and Priestmangoode Director Luke Hawes share more details about TAM's cabin interior program, which in their words aims "to put TAM on the map" and is "inspired by everything Brazil has got to offer."
Economy
TAM's new Economy cabin has received a colourful makeover and features rows of seats – manufactured by Weber – in various bright colours that reflect the carrier's Brazilian origin: lime green, aqua blue and a brighter shade of TAM's corporate red.
TAM will also introduce a new Economy 'Plus' product, which offers similar seats as in Economy, but with a larger seat pitch and recline, as well as a different seat colour. This type of service class is also offered by airlines such as United, Delta and KLM.
Business Class
TAM's new Business Class will feature full-flat seats that are designed by Priestmangoode and manufactured by Recaro.
The 48 seats will have a new type of staggered design, allowing them to be placed in a 2:4:2 configuration, but making it relatively easy for passengers in the middle seats to have aisle access.
The two seats in the middle are placed slightly ahead of the adjacent seatsand are meant for passengers travelling together, while on each side the 'individual' seat provides direct access to the aisle. Compared with the colourful Economy interior, the Business Class cabin will have a more corporate look and feel with the aim of offering passengers a "home office in the sky."
The cabin colours  in Business will be neutral with some brighter background colours accenting the storage compartments. The new Business Class seats will be available from August 2013 onwards, and TAM is planning to offer an intermediate solution to replace its current recliner seats.
First
Looking to provide passengers in First Class with a "home away from home" experience, TAM's new First cabin looks to resemble a living room and emphasizes the social element.
Consisting of just four seats – developed by B/E Aerospace – the ottomans of the two middle seats can be combined into a sofa, so parents can for example invite their kids to join them for dinner. For this reason, the foldable table has been made extra large. Ambient light on the floor is used to create a lightweight, elevated look of the seats, while the lack of overhead bins provides passengers with a roomier cabin. A nice design touch that reflects the 'living room' concept is a bookshelf built into the front wall of the cabin. The First Class cabin features neutral, natural colours that are accentuated with soft-green touches.
Passengers in Business and First will also be served freshly brewed Nespresso coffee. To reflect Brazil's coffee culture, Priestmangoode initially planned to include a coffee corner in the galley between Business and First, but dropped the idea because such a social zone would create too much noise for other passengers.
Innovative services
TAM was the first airline in Latin America to let passengers use their mobile phones for calls, sms and Internet.
Provided by OnAir, the service is currently available on 31 aircraft and TAM is also the first airline to introduce a 50 percent cheaper rate for onboard cellphone use than the commonly used international roaming rates. Last year, the airline also announced it would equip its long-haul fleet with OnAir's mobile and wi-fi service.
QR-code TAM
At the end of 2011, TAM unveiled what it calls "a new media platform," which consists of a 'QR Code TAM' augmented reality app and QR (quick response) code stickers. The QR code stickers can be placed on any surface, and when a passenger aims the camera of his or her mobile device to the sticker, a virtual animation appears.
TAM used the technology for the first time during the 2011 Christmas season, placing QR stickers on the windows of its aircraft which were linked to a virtual Santa Claus animation (video here). The app doesn't requires onboard connectivity as all content is pre-loaded when the user downloads the app or updates it.
TAM Kids
A very sympathetic concept launched by TAM is its 'Comandante Kid' initiative, which is part of the airline's TAM Kids program.
With parental consent, children up to 12 years of age can sign up for TAM Kids and receive an official 'Comandante Kid' badge. Children flying with TAM and wearing the badge are invited to help the crew aboard by welcoming passengers over the plane's PA system or distributing candies before the flight departs (videos here and here). Kids can also visit the cockpit after the aircraft has landed.
TAM Vintage
Whereas most airlines paint one of their aircraft in a retro livery to showcase their aviation heritage, TAM has gone several steps further and for an 18-month period offered an immersive retro in-flight experience on two A319 aircraft flying between Sao Paulo and Rio de Janeiro.
According to TAM, the goal of the 'TAM Vintage' project was to strengthen its roots in a time the airline is growing rapidly. Highlighting two important moments of the airline's history, one aircraft was painted in TAM's livery dating from the 1970's, when the company launched its regional operations, while the other aircraft was painted in a 1990's colour scheme, a time of great expansion and national level recognition.
The interiors on both aircraft also received a retro makeover, with seat covers, carpets and curtains refurbished in the fabric and pattern of the Seventies and Nineties. Cabin crew and pilots wore retro uniforms, meals were served on old-fashioned disposable tableware, while the onboard safety video and safety leaflet were also done in a style that echoed therespective eras (video, in Portuguese, of the TAM Vintage project here).
Emerging middle class
According to TAM, the middle class in Brazil has grown three times as fast as the overall population in the past decade and an estimated 10.7 million Brazilians hit the skies for the first time in 2011 – 8.7 million of whom belong to the 'emerging classes'.
However, 53 percent of the Brazilian middle class has never travelled by air and still travels long distances by bus, as a lot of people in Brazil work outside their home state. In an effort to make air travel more accessible to the general Brazilian population, counter growing competition from low-cost airlines such as GOL and Azul, and increase the volume of passengers at off-peak hours, TAM in 2010 launched an innovative 'new retail project' which is aimed at reaching the new 'mass class'.
Says Líbano Barroso, CEO of TAM, "The strengthening of the Brazilian economy over the past few years increased the consuming power in the country. It is necessary to prove to this new middle class that the privilege of flying no longer is limited to just a few. In order to do this, we will be active on a number of fronts: points of sale located in many parts of the country, beginning in São Paulo; new financing lines; advertising campaigns; and products for this new public."
High-traffic locations
The airline is targeting the emerging middle class with novel sales channels, including sales kiosks at high-traffic locations such as retail stores, shopping malls, subway stations and bus stations.
The airline sells tickets via discount retail chain Casas Bahia in Sao Paulo, which caters primarily to low-income customers and most of its outlets are located in poor neighbourhoods. Customers can buy air tickets at the stores and have the option to pay for them through a maximum of 12 interest-free installments, with the minimum installment being R$ 20 (USD12; EUR9). Rival carriers Gol and Azul also offer similar payment plan options.
Since August 2011, TAM operates 5 staffed subway station kiosks in Sao Paulo and Rio de Janeiro, and has also signed an agreement with Princesa do Agreste – a bus company that serves 29 north-eastern cities – to sell the bus company's tickets at TAM stores in return for selling air tickets at the bus stations. Says TAM's Marketing Director Manoela Amaro, "We can't expect the passenger to come to the airport or one of our stores to buy a ticket. We have to be where they are."
Travel advice
TAM staff at the kiosks also help novice flyers in choosing the best travel options, flight hours and financing at the point of sale.
They also explain air travel procedures, such as advanced arrival to the airport, check-in options, rules for luggage dispatch, etc. Additionally, Casas Bahia clients receive a printed booklet with useful information when flying for the first time. The airline also launched a microsite 'Como Viajar' ("How to Travel") where people can familiarize themselves with air travel, as well as the English terminology commonly used. At the airports, both the check-in staff and flight crew are trained to help those new to flying.