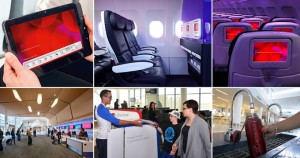 This article is re-published with kind permission of "www.airlinetrends.com".
Number 7 on our list of the world's most innovative airlines is 'no-frills chic' carrier Virgin America. Easy to recognize thanks to its iconic cabin lighting and hip and forward-looking approach to airline travel, Virgin America has firmly established itself as a favoured choice among the urban, tech savvy flying demographic.
The 'un-official airline of Silicon Valley' is also the only U.S. carrier to install power and USB outlets in all seats, and was the first U.S. airline to offer in-flight Wi-Fi on all aircraft in the fleet. True to its brand image, one of the aircraft in the fleet pays homage to the late Steve Jobs by painting his famous quote "Stay Hungry, Stay Foolish" on the side, while another aircraft is named #nerdbird, thanks to the large number of Wi-Fi users travelling on the San Francisco-Boston route.
Based out of San Francisco International Airport, Virgin America has expanded from its initial focus on domestic long-haul point to point service to now include intermediate routes as it adds more destinations in the US. It also now flies to three popular holiday destinations in Mexico.
The privately-held airline (an IPO is planned in 2013) airline has strived to transform the standard domestic air travel experience from something that often is a 'mass-produced' purely functional experience into something much more evocative and stylish. Starting with the check-in areas at many Virgin America terminals (such as at LAX), one immediately notices the soft beat of club music and distinct lighting that set the tone for a unique travel experience.
Quality instead of size
Virgin America continued to drive significant growth in 2011, expanding its fleet from 34 A320s in January 2011 to 51 aircraft in May 2012. The airline has not turned in a profitable year since beginning operations in 2007 and experienced a net loss of USD30.8 million for the fourth quarter of 2011 in which revenues rose 45 percent to USD276.8 million.
Nevertheless, Virgin America has aggressive expansion plans in mind and is targeting a number of new destinations in key US metropolitan areas. According to the airline's CEO, David Cush, Virgin America was designed to be an airline for business travelers and, as such, wants to be present in the primary and dominant US business markets. Cush cited the influence of frequent flyer programmes and corporate sales programs as being the two greatest hurdles for a growing company like Virgin, but stated that, despite a tight economy and stiff competition, he believes that Virgin will prosper because of its unique services and amenities.
Virgin America currently flies to 17 cities – mostly from SFO − but is seeking to reach as many as 30 or 40 destinations within the next five years. The airline is planning to more than double its fleet to 111 aircraft by 2019, and in early 2011 announced it had placed a 60-plane order which makes it the launch customer for Airbus' new A320neo jet, with deliveries scheduled to begin in summer 2013. At the same time, Cush states that a critical component of its approach will be to not outgrow the airline's current business model, and therefore perhaps limit the carrier to a fleet probably no larger than 150 aircraft.
In-flight entertainment
A key service differentiator for Virgin America is its sophisticated in-flight entertainment and communications (IFEC) platform, known as Red, which may very well be the world's most feature-rich IFEC system. The 9-inch high-definition touch screens on each seatback feature live satellite television, the first ever seatback digital shopping platform, an open tab service, and interactive Google Maps with terrain view that tracks the flight's location. Passengers can also use the system to chat with other passengers, play 3D games such as Doom, offset carbon emissions for their flight, or purchase snacks, meals, and beverages from their seats via Red. Flight attendants receive the orders via a tablet device and bring the ordered items to the seat
Hybrid platform
Further upping the ante, Virgin America has selected Lufthansa Systems' new BoardConnect platform for the next iteration of its Red system. Besides offering entertainment via larger high-definition touchscreen seat-centric monitors, the 'hybrid IFE&C platform' – which is slated for a late 2012 release – will also offer passengers wi-fi connectivity through their seatback system and their own personal devices, as well as offer wireless access to content stored on an onboard server. Virgin America's CEO David Cush says the new Red system will allow the airline to offer passengers "the best of both worlds." […] "We want to give our travellers more options instead of fewer, including the ability to multitask across platforms – just as they do in their lives on the ground," he said.
San Francisco T2
Virgin America operates its San Francisco hub out of the airport's totally renovated Terminal 2, which opened in April 2011. The features of the terminal in many ways match the airline's corporate ethos and its goal of remaking the travel experience through innovation, design, and a focus on technology with an eye towards eco-friendly sustainability. Re-built on the site of the old international terminal, T2 is the first LEED Gold-certified airport terminal in the US and re-used about 90 percent of the materials from the original building, including terrazzo flooring made from recycled glass chips. Other sustainable building techniques include walls of windows that makes most daytime artificial lighting unnecessary, a dedicated water bottle refilling station, and a new ventilation system that requires 20 percent less energy.
Brand partnerships
Describing its passengers as "influencers, buzz generators and trendsetters, who work in innovation-oriented industries such as fashion, film, media, technology, design," Virgin America has been quick to team up with brands for product placement. Following earlier brand partnerships with the likes of eco-friendly cleaning products company Method, and lingerie brand Victoria's Secret, Virgin America last year teamed up with Google to allow passengers to 'test-fly' the tech giant's new Chromebook laptop computers for free. Virgin America's passengers could use the computers onboard their flight and at select airport gates from July 2011 through January 2012. Flyers who borrowed a Chromebook also received a free Wi-Fi session onboard. The machines had to be returned at the arrival gate and Google staff was available to assist passengers at the Google Chrome Zone at SFO.
In December 2011, Virgin America and Banana Republic held a holiday surprise (video) for passengers waiting for their luggage at SFO airport. Inspired by a similar promotion done by Spanair (video), gift boxes with Banana Republic apparel arrived on the luggage belt passengers of flight VX837.
Social media
Virgin America has also been a frontrunner in the digital and social media arena and often one of the first to experiment with new social media tools and platforms. In September of last year, a promotional campaign from Virgin America used identical twins to reveal the benefits of its service over other airlines. Called "Twin Tested," each twin was asked to travel alone on different flights; one person travelled with Virgin America and the other with an undisclosed competitor. A video diary was made for each journey and the twins reconvened afterwards to discuss their individual experiences. The videos are part of the promotional website called "Switch to Virgin America" which also features games and coupons for consumers.
Groupon
In February 2011, Virgin America was the first airline in the U.S. to initiate a campaign on Groupon to promote its new Chicago to San Francisco and Chicago to Los Angeles services. The offer was a USD 77 discount on the USD 350 fare for those that spent USD 7 on the coupon. In typical Groupon fashion the offer sold out in just 8 minutes in Chicago and in 45 minutes in San Francisco and Los Angeles. Spurred by the popularity of its Chicago offer, Virgin America offered another deal in early March for flights out of Dallas Forth Worth. Nearly 3,000 people signed up for this deal.
Gilt City
In November 2011, Virgin America partnered with luxury deal site Gilt City to offer the public a roundtrip charter flight anywhere Virgin America flies in the US for USD 60,000. In addition to the flight, the purchaser would get to name the airplane for the Virgin America fleet. Additional trailblazing efforts in the airline social media space have included offering free tickets to higher-profile Twitter 'influencers' via a partnership with Klout, Twitter scavenger hunts that offered the reward of discounted fares and other special hashtag sales events that have donated certain proceeds to charity.