İş dünyasında, sosyal medya araçlarını belki de en iyi kullanan grup olan ticarî havayolu şirketleri, yolcularıyla yeni bir sosyal iletişim kanalı keşfetmenin heyecanını yaşıyor.
Pinterest adlı bu yeni sosyal medya ortamı, İngilize "pin" ve "interest" kelimelerinin birleştirilmesiyle oluşturulmuş.
Pinterest'te görüntü itibarıyla, kişilerin ilgi alanlarıyla ilgili şeyleri, genişçe bir mantar panoya iğneyle tutturmaları gibi bir ambiyans elde edilmeye çalışılmış.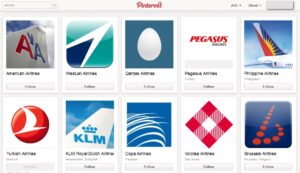 Fotoğraf ve video paylaşımları bu sosyal medya ortamında başı çeken unsurlar.
Tabii olarak havayolu şirketleri de, bu yeni mecraya girmekte geç kalmadılar.
Simpliflying'de yayımlanan bir makalede, havayolu şirketlerinin ve havalimanlarının Pinterest'i etkin bir biçimde nasıl kullanabileceği irdelenmiş.
Makalede yer alan bir bilgi bir hayli çarpıcı.
Buna göre, daha bir iki aylık bir geçmişi olan Pinterest, şirketlerin web sitelerine yönlendirdiği trafik bakımından Linkedin ve Google+'ı geride bırakmış durumda.
Görsel çalışmaların insan beyni üzerindeki kalıcılık etkisi düşünüldüğünde, gerektiği gibi kullanılması halinde Pinterest, dijital pazarlama uzmanları için bir hayli faydalı sonuçlar doğurabilir.
Pinterest bu bakımdan özellikle destinasyon pazarlaması için havayolu şirketleri ve havalimanları için adeta biçilmiş bir kaftan.
İşin en dikkat çekici yanı, şu an için Pinterest'te başı çeken havayolu şirketinin, Türk Hava Yolları (THY) oluşu.
Destinations, Our Fleet, 79 Years of Turkish Airlines, Foods, Travel Gadgets, Videos, Posters of Turkey, From Fans, Aeroscope, Travel Tips ve Skylife, THY tarafından daha şimdiden Pinterest'te tanımlanmış olan alt başlıklar.
Sektörde THY'nin yanı sıra, Pegasus ve TAV Havalimanları da, Pinteres'te gözüme çarpan diğer Türk şirketleri.
Özellikle TAV'ın pinboard'unun, destinasyon pazarlamasına güzel bir örnek olduğu söylenebilir.
Havayolu 101 Web 3.0 Departmanı olarak ayrıca, Pinterest'e benzer bir mantıkla çalışan ve tamamen video paylaşımı üzerine odaklanan Chill.com adresini ziyaret etmenizi tavsiye ediyoruz.