With an enviable outlook ahead of them, Emirates, Etihad Airways and Qatar Airways are some of the world's fastest-growing airlines.
A recent reportreleased by the Boston Consulting Group illustrates that the three carriers will collectively triple their capacity over the next 20 years.
But while these so-called 'Gulf Gullivers' have a number of similarities – they have placed multi billion-dollar aircraft orders, large investments in their premium services,  and expanded their airports in order to turn the Gulf region into the world's 24/7 aviation hub – they have taken on different growth strategies.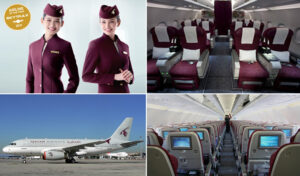 We have highlighted before how Emirates, which will become the world's largest operator of widebody aircraft by 2015, is combining its global Dubai hub with localized services on board. This time we are taking a look at Qatar Airways, who has been taken a slightly different expansion approach by seeking out markets that have yet been unexplored by fellow Gulf carriers.
Airline of the year
The national carrier of Qatar has experienced a rapid ascent to become one of the top airline brands in the sky. Earlier this year, 5-star rated Qatar Airways was named "Airline of the Year 2011" by Skytrax – which cited its roomy economy class cabin and the Business and First Class experience (including the Premium Terminal at its Doha hub) as key drivers for the ranking.
Qatar Airways currently operates a fleet of 102 aircraft to 109 destinations, and by 2013 plans to serve 120 destinations with a fleet of 120 aircraft. Receiving a new aircraft every 18 days, the airline is targetting an annual growth of 35 percent in the coming years, and has ordered more than 200 aircraft, including 10 a380s and 80 a350s, worth over USD 40 billion. Additionally, Qatar Airways is a key stakeholder in the construction of Doha's brand new international airport, scheduled to open in 2012.
Niche Markets
While Qatar Airways is likely to remain smaller in total size than its near neighbour Emirates for the foreseeable future, the Doha-based carrier seems keen to overtake its Dubai-based rival in the number of destinations served (109 versus 116 routes at the moment). Speaking at the recent Dubai Air Show, Qatar Airways CEO Akbar Al Baker said that the airline's mission "…has been to operate to key business and leisure destinations around the world, but also to underserved markets where others dare not venture into. We take bold decisions to serve certain markets because we believe it makes strong business sense."
Qatar Airways has capitalized on the absence of its competitors in various markets. In Europe the airline already flies to 27 destinations, including Eastern European cities such as Budapest, Bucharest and Sofia, as well as Copenhagen, Stockholm, and Oslo in Scandinavia. These second and third tier destinations have limited long-haul direct flights, so passengers have to make a stop-over anyway in most cases. In 2011, Qatar launched seven new European destinations and the airline will start services to Helsinki and Zagreb next year, making it the first Gulf carrier to serve the four Nordic capitals, which in the words of Business Traveller, are a "neglected area of the world, with Emirates and Bahrain-based Gulf Air serving only Copenhagen, while Abu Dhabi-based Etihad is not represented at all."
Qatar Airways says it is "placing strategic importance into emerging cities around the world." Upcoming routes include Chongqing (China) in late November, as well as 2012 route launches to Baku (Azerbaijan), Tblisi (Georgia), Benghazi (Libya), Kigali (Rwanda) and Mombasa (Kenya). The airline also recently announced that it had reached an agreement with the Iranian government to fly domestically in the country.  In total, Qatar Airways will launch 15 routes during 2011 and another 9 during 2012, many of which are currently not served by neither Emirates nor Etihad Airways.
Narrowbodies
While Emirates moves in on new routes to second- and third-tier destinations with widebody aircraft such as the A330 or B777, Qatar Airways tends to take a more cautious approach by starting small, grow the route and then deploy larger aircraft as market demand grows. The airline has extensively deployed narrowbody aircraft – which makes up 40 percent of its fleet – on new short and medium haul routes, without compromising its inflight experience. For example, Qatar serves the Venice – Doha route with an A320 featuring 12 seats in Business Class and 132 seats in Economy, compared to around 180 seats by airlines such as Lufthansa and Air France. Qatar's A320s offer personal screens in all seats with a choice of more than 700 audio and video on demand options. The aircraft is also equipped with OnAir connectivity, so passengers can use their mobile phones onboard for SMS and emails. Just like the diverse nationalities of Emirates' flight attendants, Qatar Airways has a multi-lingual cabin crew, and for example, the Doha – Bucharest (Romania) route is staffed by Romanian and Arabic-speaking crew.
Qatar Airways currently operates 38 A320 aircraft, with a further 9 pending delivery. The airline has just ordered another 50 aircraft of the A320neo series (a more fuel-efficient update of the existing A320 family), of which it will become the first operator by 2015.
Turkish Airlines
It has often been suggested that Turkish Airlines (THY) could be regarded as the fourth 'Gulf Gulliver', and the airline is taking a growth approach an approach similar to that of Qatar Airways. From its Istanbul hub, THY can reach both European cities and the Gulf or North Africa in two to five-hour flights for which its B737s and A320s are ideally suited. Says THY's CEO, "Smaller aircraft are better to serve secondary cities in Europe and offer a cost advantage that even Gulf carriers cannot match." According to analysts, THY even has an advantage over the Gulf airlines, as with a Turkish population of over 70 million people, it has substantial origin-destination and domestic markets.