Ambitious Turkish Airlines (THY), Europe's fourth biggest airline and voted best airline in Europe in the 2011 Skytrax survey, has seen passengers soar as a result of an aggressive strategy to turn Istanbul's Atatürk Airport into a hub for passengers travelling between Europe, Asia and Africa.
One third of THY's passengers currently transits in Istanbul and the airline plans to double this in the near future.
To offer the rapidly growing number of passengers a better experience on the ground, Turkish Airlines has just opened a renovated and expanded lounge at Istanbul Airport.
Byzantine chic
The large, 3,000 m2 lounge (nearly three times the size of the former 1100m2 lounge) can accomodate 2,000 passengers per day and is divided in several sections, among which are a billiard hall and library, a TV wall, business centre, and a play room for children.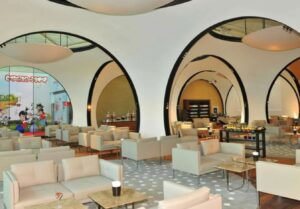 The lounge also includes private relaxation rooms, showers with special toiletry kits, and a private infant room.
Catering in the lounges is provided by gourmet catering company Turkish Do&Co and passengers can help themselves on an extensive menu of hot and cold dishes, pastry, while a Turkish pizza (pide) kitchen prepares fresh pizzas on the spot.
Besides a fresh juice bar, the beverage section offers Turkish brands such as Uludağ soda and Efes beer.
The design of Turkish Airlines' lounge oozes an ambience of 'Byzantine chic' with curved arches that reflect the airline's Ottoman roots (see also our recent whitepaper for more on how airlines can use their heritage to differentiate the passenger experience).
The lounge also features a 150-year old olive tree and automatic piano that reportedly allows passengers to connect their iPod into to have it play their music.
The lounge is accessible to Turkish Airlines' business class passengers as well as and elite-tier members of THY and Star Alliance loyalty programs.
New cabin interiors
In October 2010, THY also unveiled a new cabin interior, designed by Priestmangoode.
The airline's new business class seats are nearly 2-meter long flat beds and meals are served by an onboard chef.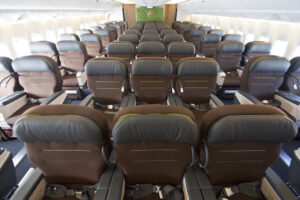 Turkish Airlines' new premium economy product, Comfort Class,  which will also act as business class seat in THY's new narrowbody aircraft, offers seats with a 45-inch pitch.
Economy seating features nine different colours  "reflecting the colours and visual richness found in Istanbul."
THY is also in the process of introducing in-flight broadband, provided by Aeromobile/Panasonic, on its new widebodies.