THY'nin Manchester United'lı futbolcuları oynattığı son reklam, Barcelonalı reklamın aksine büyük oranda beğenilmiş durumda.
Ekşi Sözlük gibi, hiç bir şeyi beğenmeyen yazarlarıyla ünlü bir platformda bile bu reklamla ilgili yorumlar büyük oranda müspet yönde.
Özellikle THY'nin yeni business class konseptinin tanıtıldığı reklamın final sahnesinde Rooney tarafından çekilen şut, Manchester United'ın efsane isimlerinden ve kulübün yönetim kurulu üyesi Sir ünvanlı Bobby Charlton'ın suratında patlamak üzereyken, araya kaleci Edwin van der Sar giriyor ve zaten takımdan ayrılmak istediğini beyan etmiş olan Rooney'yi uçaktan acil iniş yapmaktan kurtarıyor. 🙂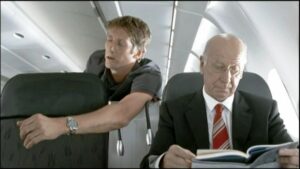 Final sahnesinde dikkati çeken şey ise, Charlton'ın okuduğu kitap oluyor.
Acaba hangi kitabı okuyor diye reklamın 50 – 55. saniyeleri arasını iyice büyütülmüş biçimde defalarca izledim.
Charlton'ın elinde Coleman Barks tarafından yazılmış olan "Rumi – Bridge to the Soul" adlı kitap bulunuyor.
Bu bir tesadüf mü, yoksa reklamı çekenlerin bilinçli bir tercihi mi bilemedim.
Belki de Bobby Charlton gerçekten de Mevlana'ya ilgi duyuyor ve onunla ilgili kitapları okuyordur.
Kim bilir?