Dünkü yazımda Kulula'nın "Flying 101″ temalı uçağından bahsederken, şirketle ilgili bir haberden yola çıktığımı belirtmiştim.
İşte o haber, önümüzdeki Haziran ayında Güney Afrika Cumhuriyeti'nde yapılacak FIFA 2010 Dünya Kupası ile ilgili.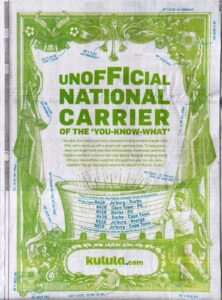 FIFA, en önemli ürünü olan Dünya Kupası'nın marka kullanımı konusunda o kadar hassas ki, sponsor olmayan firmaların bu organizasyonu çağrıştıran reklam yapmasına bile müdahale ediyor.
Kulula'nın başına gelen de tam olarak bu.
Hazırladıkları reklam görselinde futbolcu, stadyum, vuvuzela, bayrak, futbol topu, hakem düdüğü gibi imgelere yer veren ama dünya kupası organizasyonundan hiç bahsetmeyen şirket buna rağmen FIFA'dan yakasını kurtaramadı.
Hem de slogan olarak "Unofficial National Carrier of the you-know-what" cümlesini kullanmasına rağmen.
FIFA, reklam görselinde kullanılan imgelerin bir bütün olarak bakıldığında "ambush marketing" çalışması olduğunu belirtmiş.
"Ambush marketing de nedir?" diyeceksiniz belki de.
Ben de yeni duydum. Türkçe'ye "pusu pazarlama" olarak çevrilebilir.
Bu tarz pazarlama çalışması kapsamında, bir etkinliğe sponsor olmayan firma yaptığı reklam çalışmasıyla asıl sponsor olan firmanın önüne geçiyor.
Tarihte bunun yaşanmış bir çok örneği bulunuyor.
Siz siz olun, dünya kupasıyla ilgili bir reklam çalışması yapmadan evvel iki kere düşünün.