Başarı kazanmış şirket veya kişilerin başkaları tarafından taklit edilmesi alışıldık bir şeydir.
Ama başarının hangi şartlar altında elde edildiği dikkatten kesinlikle kaçırılmamalıdır.
Bu sebeple, mesela, Çin veya Hindistan hiç bir zaman, asla ve kat'a, Türkiye için örnek alınacak ülkeler değildir.
Bu ülkelerin hangi şartlar dahilinde başarılı oldukları veya başarılı kabul edildikleri yakından incelendiğinde kast ettiğimiz şey daha net anlaşılabilir.
Benzer durum tabii ki havayolu sektörü için de geçerli.
Ryanair'in başarılı bir şirket olduğu tartışılmaz. Ama Ryanair'in kendine has bir iş yapış şekli, bir üslubu var.
Ryanair yaptı diye diğer şirketlerin de onu körü körüne takip edip bir şeyler yapmaya girişmesi ne kadar doğru
Mesela web sitesi. Acaba Ryanair'in web sitesini örnek alalım diyebilen kaç havayolu şirketi var?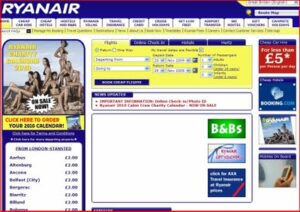 Sözü, kabin içi satışlara getireceğim. Seyahat esnasında, inişe az bir süre kala yapılan gümrüksüz (duty free) satışlara bile tahammül edemiyoruz.
O daracık tüpün içerisinde zaten 3 – 5 saattir minimum hareketle oturuyorken bir de ortalıkta sürekli gezinerek elinde bir takım ürünler ve para ile koşturan hostesler, tuvalete gitmek için yerinizden kalktığınızda karşınıza set çeken trolley; o düşük basınçlı ortama daha da sıkıntı veren bir hengame…
Şimdi de ortaya sanki uçak içindeki ortam müsaitmiş gibi bu işlere yeni yeni tevessül eden havayolu şirketleri çıktı.
Makalenin tamamına buradan ulaşabilirsiniz. Aşağıya sadece küçük bir bölümünü alıyoruz.
Önemli not: Bu çalışmalar ürün farklılaştırması, hizmette çeşitlilik filan değildir. Sadece ve sadece uçak yolcusuna daha fazla sıkıntı vermektir.
Winter-sport operator TUI (TUIGn.DE) Ski is now offering passengers ski hire, lift passes and reservations for après-ski events as they fly into resorts – receiving a commission from every sale. American Airlines (AMR), meanwhile, is testing on-board sales so that passengers can buy tickets for Broadway shows as they cross the Atlantic, while those coming back to Britain can get their Heathrow-to-Paddington express tickets ready even before landing.
Finding new ways of selling more to passengers in the skies has suddenly stepped up as the world' s airlines struggle to make money from flying. American Airlines is working with GuestLogix (GXI.V) on its new ticketing service, and both Ryanair (RYAAY) and British Airways (BAY.L) are signed up to use the same system. Japan Airlines and All Nippon Airways, like EasyJet (EZY.L), are also looking at imaginative new ways to improve services, mainly by offering better food in the sky. JAL will soon offer on-board vending machines selling alcoholic drinks to customers in the airline's revamped cabins, while, on ANA, economy passengers will be able to have business-class meals, as well as to order drinks through their seat-back touch screens.