Economy Class'ta yer darlığı devam ederken bakın Business'ta neler oluyor.
Delta Airlines'ın blog sayfasında yaptığı açıklamaya göre, yeni ve tam yatabilir olan koltuklar yolcularından tam puan almış.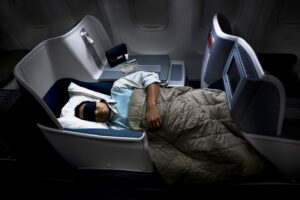 Tam yatabilir olmalarının ötesinde, son derece etkin ve verimli bir tasarım sayesinde, tüm koltukların koridora ayrı bir çıkışı olması sağlanmış.
Bu da uyku esnasında yolcuların koridora çıkmak için bir birlerini rahatsız etmelerinin önünü almış oluyor.
"…it's flat, and that's the best way to sleep. Beyond that, there are no gymnastics required to get to the aisle. Every seat has direct aisle access, which is a real plus especially when everyone is sleeping".