Onlarca havayolunun üye olduğu küresel ittifakların toplam içerisindeki payını yansıtan güzel bir çalışma.
Avrupa bölgesinde LCC'lerin etkisi görülüyor.
Neredeyse tüm büyük network taşıyıcılar bir ittifaka üye olmasına karşın hâlâ yolcuların yarısına yakını 'bağlantısızlar' tarafından taşınıyor.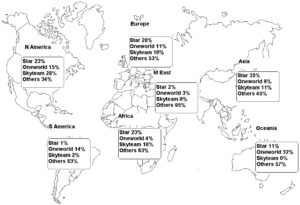 Zaten hep söylüyorum.
Mevcut ittifaklar aslında sivil havacılık sektöründeki "milliyet temelli mülkiyet sorunsalı" yüzünden ortaya çıktı.
Ne zaman ki sektör tam liberal hale gelecek, o zaman ortada ittifak filan kalmayacak.
Bugünkü üç büyük ittifakta başı çeken şirketler diğerlerini yutmaya başlayacak.
not: Emirates CEO'su Tim Clark'tan özlü bir söz: "If we take the long-term view, then alliances offer a sure-fire way of achieving mediocrity and reduced profitability".